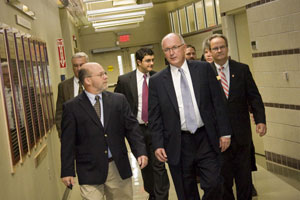 BIG RAPIDS – Rep. Pete Hoekstra (R-Holland) visited Ferris State University on Monday, Nov. 16 to learn more about how Ferris is meeting the needs of the new economy and manufacturing opportunities, the retraining/retooling of industry and the environment.

While on campus, Hoekstra spent time with College of Engineering Technology Dean Thomas Oldfield and Interim Director for the School of Built Environment John Schmidt touring the Granger Center for Construction and HVACR. The Center is a 72,000 square-foot interactive learning environment with exposed plumbing, electrical, structural and building components providing learning opportunities beyond the typical classroom setting.
"We want our students to not only be able to understand the engineering aspect in their field, but to be able to apply that theory by providing a hands-on experience," Schmidt said.
Programs offered in the Granger Center are in Construction Management with emphasis on Civil Engineering Technology and Building Construction Technology; Heating, Ventilation, Air Conditioning and Refrigeration Technology; and HVACR Engineering Technology. The center also is used by industry like the Michigan Department of Transportation through Ferris' Institute for Construction Education and Training, and Hobart Service for training technicians in servicing commercial food service refrigeration equipment.
A strong focus of the HVACR programs is on energy efficiency. As one of only two HVACR bachelor's degree programs in the country, Ferris is looked upon by industry as leaders in educating environmentally aware technicians and engineers.
"The School of Built Environment is solidly formed around the education of efficiencies and sustainability through our HVACR options, facility management degree, professors that are LEED certified and our new Bachelor of Science degree in Architecture and Sustainability that will be offered starting in Fall 2010," Oldfield said.
Hoekstra ended his visit meeting with university President David Eisler.