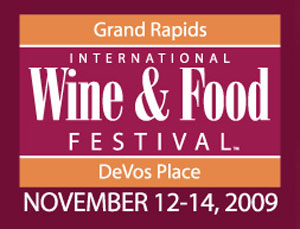 BIG RAPIDS – The Grand Rapids International Wine and Food Festival is providing more than a palate-pleasing experience. Students from Ferris State University's Sport Entertainment Hospitality Management programs are also gaining a hands-on learning experience.
For the second year, more than 150 students from Ferris' SEHM programs are teaming with ShowSpan and SMG Worldwide Entertainment and Convention Venue Management to provide hospitality services during the annual Wine and Food Festival. The partnership is made possible through financial support by DeVos Place.
"This is an important partnership in which students studying Sport Entertainment Hospitality Management at Ferris gain hands-on training in a variety of career paths available in the hospitality industry," said Amy Dorey, Ferris assistant professor of SEHM.
Dorey, who helps coordinate the experience for students to participate in the Wine and Food Festival, notes this is a win-win partnership. "This event provides an invaluable glimpse into the hospitality industry and provides financial sponsorship that continues to benefit students throughout the year."
The financial contribution by DeVos Place is in the form of a donation benefiting Ferris' SEHM department, Dorey explained. The funding is used to offset registration and travel costs for students attending conferences throughout the academic year geared toward expanding their professional development, she said.
"At Ferris, we believe experiential learning in real-world settings is invaluable as an educational component," David Nicol, College of Business dean, said. "In this event, our students have an outstanding opportunity to work with vendors serving a varied clientele in a setting somewhat different from those they encounter in other aspects of our SEHM programs. It is a great experience, for which we are truly appreciative."
Julie Doyle, SEHM program coordinator and associate professor, added the partnership also provides great visibility for Ferris' Hospitality programs. "Ferris' focus on hands-on learning is a draw for many students and a great way for business and industry to make connections with talented students prior to graduation. Partnerships such as this highlight the success of our programs and students."