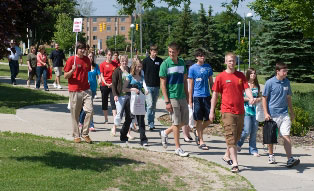 BIG RAPIDS – Summertime injects new life into Ferris State University's campus thanks to new-student orientation which brings approximately 2,100 students over a 16-day period. Ferris is rolling out the red carpet as it welcomes students, families and friends for a detailed introduction to what the University has to offer. Orientation day is a busy one for students and parents as their day begins early (7:30 a.m.) and ends at 2 p.m.
"Our goal, with orientation, is to do everything we can to make sure students are having a smooth transition to Ferris. We also make sure we're taking care of parents who have their own questions that we want to be sure to address," said Leroy Wright, dean of Student Life at Ferris. "Orientation is a big process. One of the great things about orientation is it brings the entire community together as we all work to make orientation successful and smooth for our students and their families."
A typical orientation day for students begins with a check-in process that includes having a photo taken for their student identification card and early opportunities to learn about Housing, Dining Services, Birkam Health Center, Financial Aid, Student Services and more. Students and parents gather for an official welcome presentation prior to college-specific meetings where information on registration, required classes and graduation requirements is disseminated. After receiving clearance, students begin registering for classes while a "Family and Friends" program starts for parents and friends. Students, parents and friends are guided through the day's events by 22 specially-trained student orientation leaders.
"Having student orientation leaders is a very important part of our orientation," said Jasmine Williams, a fourth-year Ferris student assistant involved in orientation leadership. "Student leaders play an important role because they are your first impression of Ferris. They help make students going through orientation feel a lot more comfortable knowing they're talking to someone closer to their age."
Training for student orientation leaders is a thorough process.
"Our student leaders complete 40 hours of training that includes meeting with staff from every department and organizations from all over campus. This gets them familiar with information and language that needs to be used," said Nick Campau, a Ferris Criminal Justice graduate who now works full-time as coordinator of Student Life at Ferris. "Our student leaders work on how to interact with students, how to answer questions and combine that with their own experiences as students at Ferris. They learn how to be truthful, when asked some tough questions, but they also know to be appropriate with their answers."
Students and parents come back together for campus tours.
Before the day has ended, students have been exposed to many different aspects of what it means to be a student at Ferris State University.
Classes for the Fall 2009 semester begin Aug. 31.