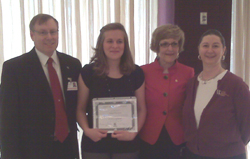 BIG RAPIDS – Adrian Klautsch of Flint is the recipient of the Ferris Professional Women annual scholarship.
The $1,000 FPW scholarship is awarded to a full-time female Ferris State University student who has demonstrated leadership and service to the community and has excelled academically. She was required to write a 500-word essay on her qualifications for the award.
Klautsch is a pre-optometry student who is expected to finish her pre-op in December 2009. She hopes to complete her optometry studies and do medical missions and world relief.
She has been involved in a number of relief efforts as a college student, volunteering for impact missions in Chicago, Katrina Relief and the Caribbean Christian Center for the Deaf. She is also active in Ferris' Student Alumni Gold Club and has done volunteer work for them. Her other out-of-class interests include membership in the InterVarsity Christian and Lutheran Student Fellowships and Circle K International.
FPW supports and promotes opportunities for Ferris women, enhances the position and recognition of Ferris women, contributes to the improvement of the status of women in society and nurtures Ferris women students in their personal and professional growth.
FPW holds an annual golf outing to raise funds for the student scholarship and also conducts a book drive to purchase books that depict women in positive ways for local libraries. This year, FPW is soliciting support for books and materials for the Susan P. Wheatlake Cancer and Wellness Center located in the Mecosta County Medical Center. The organization also holds commencement breakfasts in the fall and spring to honor graduating seniors, supports youth projects and promotes networking opportunities for Ferris employees and students.