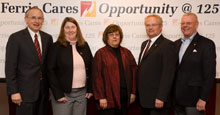 BIG RAPIDS – Leaders of the The Ferris Foundation announced a major scholarship effort today (April 16) to assist Ferris State University students who have been severely affected by the challenging circumstances of the economy.
Ferris Foundation Chair Sueann Walz of Big Rapids and Chair-Elect Dick Shaw of Hesperia said they would be leading an initiative called [email protected] The initiative will mark Ferris' upcoming 125th anniversary celebration with the objective of raising at least $250,000 to be distributed as scholarships during the 2009-10 academic year. The Ferris Foundation is the fund raising arm of the university and manages gifts contributed by independent donors for the benefit of Ferris.
"Student opportunity has always been at the heart of Ferris' mission. We want to emphasize that principle when students who will shape our future are especially vulnerable," said Walz, who is also a university trustee.
Shaw added, "This is the perfect time for people to celebrate Ferris' 125th birthday celebration through presents that impact our students and have a human face – student opportunity."
Dan Burcham, acting vice president for Academic Affairs and vice president for Student Affairs, responded to The Ferris Foundation effort by announcing those closest to Ferris will be joining the effort with their own commitments through "Ferris Cares." He announced that more than $16,000 has been pledged in the last several days toward the special grant program. Burcham will be challenging the Ferris campus community to expand that support with an objective of raising $50,000 over the coming months, he said.
Burcham, who oversees Ferris admissions and financial aid, added, "Our objective is that no student enrolled at Ferris should decide to leave school and no student accepted for admission should decide not to come here because of the financial difficulties of their families. 'Ferris Cares' and its partners through [email protected] will provide the resources to expand need-based financial aid quickly."
Ferris President David Eisler reinforced the efforts to build scholarship resources. "These initiatives are so important because of the immediate difference they can make," he said. "Ferris State University was founded as a place to transform lives, and that is exactly our concern now when students need our assurance of opportunity."
Eisler added he loved the idea of celebrating Ferris' 125th birthday with "presents" to benefit students. "Mrs. Eisler and I want to be among the first to lead the building of a huge birthday celebration with our own gift."
For more information, please contact the Ferris Foundation at (231) 591-2365 or www.ferris.edu/foundation. Details about establishing scholarships or endowments may be obtained from the Advancement Office at (231) 591-3825.