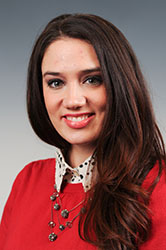 Administrative Assistant, Office of the President
Maggie Walcott is the most recent addition to the President's Office, having joined the office in December of 2016. She is the Administrative Assistant for the executive office and composes much of the correspondence. She is responsible for preparing documents, maintaining records for the office, planning and preparing events, updating the Presidential online calendar, handling office purchases and supervising our student receptionists. As a Notary Public she provides a public service to many employees and students.
Maggie earned her bachelor's degree in Physical Anthropology from Michigan State University in 2002 and spent the next 14 years working as a paralegal in a law firm. Her efficient yet accommodating style will serve the University and its students well.
Contact Information:
1201 S. State Street
CSS 301
Big Rapids, MI 49307
(231) 591-3942