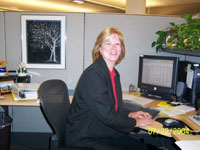 Associate Director, Budgetary Planning and Analysis
Beth Logan provides support for the Director of Budgetary Planning and Analysis. In support of strategic and operational planning of the University, Beth provides complex fiscal analysis both internal to Ferris State University and externally with other state universities. She is responsible for the allocation of the University budget and the annual state mandated (HEIDI) reporting to the State of Michigan Department of Management and Budget. Beth has received a bachelor's degree in Business Administration from Ferris State University and a Master of Science in Career and Technical Education with an emphasis on Post-Secondary Administration.
Beth is a member of the Ferris' Strategic Planning and Resource Council (SPARC), Analytical Studies Committee through the Michigan Association of State Universities (MASU), Michigan Association of Institutional Research (MI/AIR), Michigan University Budget Directors, and the Higher Education Institutional Data Inventory (HEIDI) Advisory Team - State of Michigan.
Contact Information:
1201 S. State Street
CSS 306
Big Rapids, MI 49307
(231) 591-3823
(231) 591-3545 (fax)