The new facility features over 10,000 square feet of the best technology in golf including
4 state‐of‐the‐art Trackman Simulators
3 heated hitting bays for instruction and fitting
750 square foot short game area
Mitchell Room for fitting and club repair
"The Michigan Golf Hall of Fame"
The indoor golf center offers year-round access for golf, learning, and practice. It also provides an educational element to students in the PGA Golf Management Program to develop their abilities in coaching, instruction, and fitting and club repair, which better prepares them for their careers as PGA Golf Professionals.
Indoor Winter Lessons
PGA professional instruction and lessons are a great option to improve your golf game. Katke offers one-on-one lessons and many player development programs. Our PGA professional staff wants you to learn the fundamentals, improve your game and have fun with your lesson experience.
Individual Instruction
30 minute Lesson $40
60 minute Lesson $70
90 minute Lesson $100
9-hole Playing Lesson $150
18-hole Playing Lesson $250
Youth/FSU Student $40
Lesson Series (contact the clubhouse for details on how you can save when bundling multiple lesson sessions).
Indoor Winter Club Fitting Analysis – Ping, Titleist, Callaway, Mizuno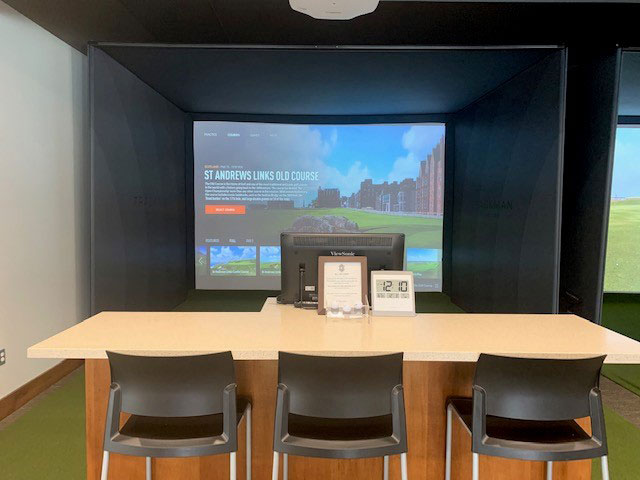 Wedge Fitting $60
Iron Fitting $60
Metal Wood Fitting $60
Full Bag Fitting $100
TrackMan Fitting $100
Full Bag Fitting
Finding the correct equipment combination is one of the most important decisions a golfer can make. A Trackman fitting will focus specifically on a golfer launch angle, spin rate and dispersion while optimizing those variables based on the ability of the golfer to hit the center of the club face. This fitting will allow a golfer to find the best combination of club head design and shaft combination to deliver the best overall distance and accuracy. This fitting is recommended for the golfers who wants thirteen new clubs. A Full Bag Fitting will take 60-90 minutes.
Wedge Fitting
Wedges are the most important clubs in the bag. A correct wedge fitting is very important to a golfer scoring ability. A wedge fitting involves three steps: 1. Evaluating a golfer's current wedges, 2. Testing sole designs in different turf conditions for performance and the golfer's swing technique, 3. Create proper distance gaps between each wedge. Testing & fitting wedges will take 30-45 minutes.
Iron Fitting
Selecting and fitting for an iron requires analyzing data for ball speed, launch angle and spin rate. During this process our club-fitters will help a golfer determine which iron performs consistently the best for the golfer's ability. Testing & fitting irons will take 30-45 minutes.
Metal Wood Fitting
Metal wood fitting combines selecting a driver, fairway or hybrid club that maximizes distance while ensuring a consistent yardage gaps between fairway metals, and hybrid clubs. Testing & fitting metal woods will take 30-45 minutes.
Hours

Monday 12pm-7pm
Tuesday 10am-7pm
Wednesday 10am-7pm
Thursday 10am-7pm
Friday 10am-7pm
Saturday 10am-7pm
Sunday Closed
Rates for 1-4 persons
$35/hr Mon. – Thu.
$40/hr Fri. – Sun.
Call the Katke Clubhouse to reserve a time at the indoor golf center.