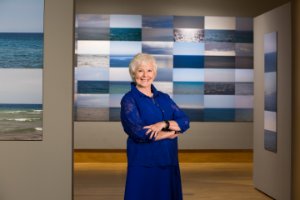 Associate Provost for Accreditation, Assessment, Compliance and Evaluation
Director and Faculty, Doctorate in Community College Leadership
Doctorate in Community College Leadership
Phone: (231) 591-3805
Email: [email protected]

Education
PhD, Michigan State University, Higher, Adult, and Lifelong Education, Leadership, Teaching and Learning, Curriculum Design
MA, Michigan State University, Business and Distributive Education
BA, Michigan State University, Business and Distributive Education
AA, Port Huron Junior College
Biography
Dr. Teahen has served as a secondary, community college, and university faculty member and administrator. Before joining Ferris in 2002 as the Dean of Extended Learning, Dr. Teahen served as a faculty member, division director, and occupational/workforce dean at Northwestern Michigan College in Traverse City for 30 years. After serving 5 years as Dean of Extended Learning at Ferris, she was promoted to Associate Provost in the Office of Academic Affairs. In 2010, with the launch of the new Doctorate in Community College Leadership, Dr. Teahen began service as its director, a role that she continues today along with her associate provost duties in the areas of accreditation, assessment, and associate-degree career programming.

She is professionally involved in the areas of leadership development, curriculum development, accreditation, and assessment. She is active as a peer reviewer with the Higher Learning Commission where she serves as a Team Chair, Institutional Actions Committee Member, Completion Academy Mentor, Assessment Academy Mentor, member of the Peer Reviewer Evaluation task force, and Change Panel Reviewer. She is a frequent presenter at HLC peer review trainings and at the annual meeting, along with other conferences such as the League for Innovation and AACC. She has participated in more than 60 HLC site visits. She is also a frequent consultant to campuses preparing for accreditation or advancing assessment. For many years, she has also served as the secretary on the executive board of the Community College Baccalaureate Association.

Dr. Teahen believes in high expectations and support for success and brings that belief to her work, particularly with the doctoral program students. Her motto is that "the organization that develops the most people wins."

In recognition of her professional excellence, community service, and active assistance to women in attaining professional excellence and leadership skills, Dr. Teahen was awarded the Athena Grand Traverse Award in May 2014 and the Distinguished Woman in Higher Education by the Michigan chapter of the American Council on Education (ACE) in 2015. Also in 2015, the Grand Rapids Area Professionals for Excellence recognized her with the Distinguished Leadership Award in Higher Education.

She currently teaches the Critical Issues in the Community College course and the Practicum in the DCCL program. Through the practicum, she leads several study-abroad experiences with recent travels to China, Finland, and Australia.
Publications and Intellectual Contributions
Newspaper Forum Opinion
Teahen, R. C. (2016). "Long climb to equality not finished after a few small steps," Traverse City Record-Eagle. http://www.record-eagle.com/opinion/forum-long-climb-to-equality-not-finished-after-a-few/article_0168fed1-8f46-5865-bc27-b0bc11850415.html
Book Chapter
Teahen, R. (2014). "Accountability and a Culture of Caring," Exploring the Future of Community Colleges. http://www.ferris.edu/HTMLS/administration/academicaffairs/extendedinternational/ccleadership/alliance/documents/ImagineMore_Exploring-the-Future-of-Community-Colleges_2014.pdf
Journal Article
Teahen, R. (2013). "Community College Presidents: What Does It Take?"
Newsletter
Teahen, R. (2000). "Learning to Become a Learning College," Building a Learning Community.
Newsletter
Teahen, R. (2000). "The Assessment Movement in American Higher Education," Building a Learning Community.
Book Chapter
Teahen, R. (1998). "An O.P.E.N. Approach to Learning," To Improve the Academy. National Council on Staff, Program, and Organizational Development.
Conference Proceeding
Teahen, R. (1998). "Making it Happen," Becoming a Learning College.
Journal Article
Teahen, R. (1998). "Michigan Community Colleges Implement Integrated Curriculum," Workplace. 9 (1). NCOE (National council for Occupational Education)
Journal Article
Teahen, R. (1998). "Michigan Tech Prep in the Midst of Systemic Reform," The Journal of Vocational Education Research. 23 (2).
Conference Proceeding
Teahen, R. (1998). "The Shadow College as a Catalyst for Institutional Renewal,"
Presentations
Lecture
Teahen, R. (Presenter), Chesley, L. (Presenter), CCA Annual Conference, "Education and Regional Development: A View from American Community Colleges," Community College Association of Australia, Melbourne, Australia, (July 26, 2017).
Lecture
Teahen, R. (Presenter), Balkema, S. (Presenter), International Conference on Teaching and Leadership Excellence, "What Community Colleges Need Now in Leaders," National Institute for Staff and Organizational Development (NISOD), Austin, Texas, (May 29, 2017).
Conference Presentation
Teahen, R. C. (Panelist), Wimbish, J. (Discussant), Washington, L. (Panelist), Kattuah-Snyder, L. (Moderator), American Association of Community Colleges Annual Conference, "Charting a Course for Next-Generation Leaders," AACC, New Orleans, Louisiana, (April 24, 2017).
Lecture
Teahen, R. (Presenter), Lee, T. (Presenter), Innovations, "What the World Needs Now in Leaders," League for Innovation, San Francisco, CA, (March 13, 2017).
Lecture
Teahen, R., Faculty Development Program, "Designing for Learning," Ferris State University, Big Rapids, MI, (October 2008).
Presentation
Teahen, R., NASPA Assessment Conference, "A Journey of Transformation: Creating Systems and a Culture of Support for Assessment," Phoenix, AZ, (June 2006).
Presentation
Teahen, R., All-Faculty In-Service Workshops, "Assessment Contemplations/Linking the Learning Paradigm and Assessment," Dixon, IL, (2004).
Lecture
Teahen, R., National Council for Workforce Education, "Preparing Tomorrow's Workforce Educators," Baltimore, MD, (October 2004).
Lecture
Teahen, R., Trends in Higher Education Conference, "Rethinking Tradition as We Move Toward Building Learning Organizations," University of Phoenix, Phoenix, AZ, (2003).
Lecture
Teahen, R., AACC Presentation, "Building a Community of Learners Begins with Leaders," (April 2002).