The HVACR Summer Academy is intended for students which have either just graduated from high school or are about to enter their senior year and have an interest in a possible career in Heating, Ventilation, and Air Conditioning.
Campers will be exploring elements of piping, electrical circuits and motors, gas heating equipment, basic refrigeration, airflow measurement, heat pumps, and electronic controls. Campers will also be given the opportunity to participate in a mini SKILLS Test to demonstrate their knowledge of these topics at the end of the day- and potentially earn a scholarship to the Ferris HVACR program for their freshmen year.
In addition to this scholarship opportunity, the program also offers in house scholarships and actively participates with SKILLS USA and the Michigan Science, Technology, Engineering and Math (STEM) partnership to reach out at every level to promote the best in educational opportunities by giving back.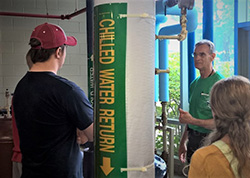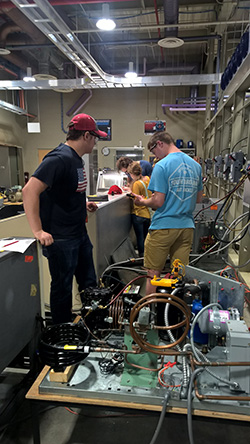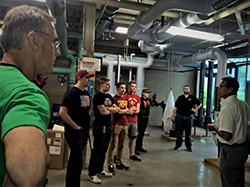 Ferris HVACR Online Students Visit The Granger Center for Construction and HVACR
June 4, 2018- Ferris State University students are gathering at the Granger Center for Construction and HVACR this week for laboratories to fulfill requirements for online courses taught by John Eric Quilitzsch and Douglas Zentz, HVACR associate professors in the College of Engineering Technology. Distance learning students in Ferris' HVACR Engineering Technology program travel from across the world to the Big Rapids campus for five days during the summer to work with the HVACR systems and controls in the energy lab. During the campus visit, lab time provides a hands-on educational experience in fluid measurement, heat transfer, control programming, loop tuning and system commissioning for online students. The 300-level Heating, Ventilation, Air Conditioning and Refrigeration courses, taught by Eric Quilitzsch and Doug Zentz, blend online learning with a practical hands-on educational experience on Ferris' main campus. Quoting Zentz "For the working professional, the blended environment of online and hands-on application is absolute for success in the online HVACR Engineering Technology program," adding, "The biggest advantage is the required five-day Granger Center laboratory experience. This is where the most meaningful learning takes place- when the rubber meets the road."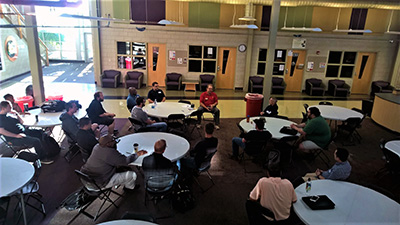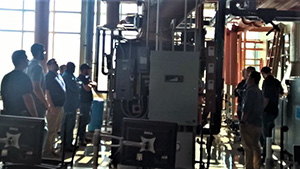 The SkillsUSA Competition is the showcase event for the best career and technical students in the nation. Contests begin locally and continue through the regional, state and national level. The philosophy of the championships is to reward students for excellence; to involve industry in directly evaluating student performance and to keep training relevant to employers' needs.
The HVACR program at Ferris is committed to recruiting the best students in the country. The industry partners, faculty and students congratulate the winners and believe the scholarship will help to defray the costs of tuition, books, and fees.