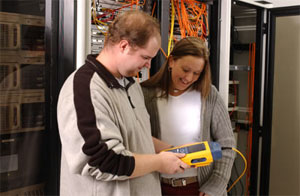 Bachelor of Science
Electrical/Electronics Engineering Technology
Associate in Applied Science
Industrial Electronics Technology
Introduction to EEIT/EEET
The Industrial Electronics Technology (EEIT) Program at Ferris is a 2-year Associate in Applied Science degree. The EEIT program prepares graduates to work in the fields of Electronic Instrumentation, Electronic Product Design and Testing, and Automatic Control Systems. Careers in these fields are certain to be exciting and rewarding.
The EEIT provides a solid foundation in electrical circuits, solid-state devices, digital electronics, microprocessors, industrial automation, and troubleshooting. Real world theory and applications are emphasized throughout the program with a high degree of hands-on lab exercises.
Typically, our EEIT students can obtain career positions upon graduation by working in design, testing, or troubleshoot as an electronics technician. The EEIT graduate can also choose to continue at Ferris State University in our 2+2 laddering program. Two additional years of study, after the EEIT degree, leads to our Bachelor of Science Degree in Electrical/Electronics Engineering Technology (BS EEET) .
Our BS EEET degree prepares the graduate to work as an Engineering Technologist in the fields of Industrial Automation and Controls, Digital and Embedded Systems Design, Electronic Communications, or Programming and Control Networks. Often our graduates work in career positions known as a Control System Integrator, Product Designer, Embedded Systems Developer, Control and Network Specialist, Technical Sales Specialist, Electrical/Electronics Product Specialist, etc.
Many influential corporations are taking a very active part in supporting our BS EEET Program. Companies like Rockwell International, Thermotron Corporation, Johnson Controls Corporation, Fanuc Robotics, A.O.K. Engineering, Allen-Bradley, Kendall Electric, Owens-Brockway, Haworth, and many others recognize that BS EEET graduates have:
A strong technical base making them more capable of understanding and applying the newest technologies.
Programming experience with C/C++ and Relay Ladder Logic.
In depth knowledge of microprocessors, embedded systems, computer based design, and Networks like Ethernet, DataHandling, ControlNet, DeviceNet.
Internship experience in the field.
An education that emphasizes hands-on learning with real-world equipment and devices.
The Bachelor of Science in Electrical/Electronics Engineering Technology is accredited by the Engineering Technology Accreditation Commission of ABET, https://www.abet.org.
The Associate Degree in Industrial Electronics Technology is accredited by the Engineering Technology Accreditation Commission of ABET, https://www.abet.org.