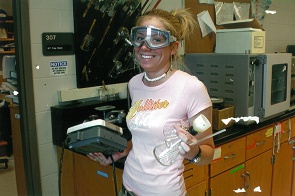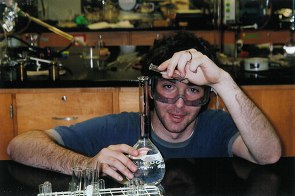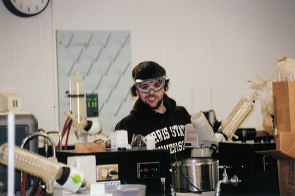 To answer the demands of industry for well-trained personnel and to offer educational opportunities, Ferris State University has the industrial chemistry technology program leading to the associate in applied science degree.  The program provides basic training in organic, inorganic and analytical chemistry. In the second year, specialty courses in industrial chemistry teach the student procedures used in modern laboratories. As such this program can stand alone or in conjunction with other science majors as an excellent addendum to their program.
Graduates of this program perform analyses with GC, UV-Visible spectroscopy, FT-IR, NMR, atomic absorption spectroscopy and other modern instrumental techniques. Graduates find employment in the following fields: pharmaceuticals, plastics, food, cosmetics, paints, petroleum and industrial chemicals.  Advancement in the field of chemistry is possible in quality control research, and production support.
Through the use of field trips and visiting lecturers, the program acquaints students with modern chemical plant operations. The student is exposed to modern laboratory techniques thus preparing them for the varied laboratory operations found in industry.
Why choose Industrial Chemical Technology?
Companies throughout Michigan and the Midwest hire Ferris ICT program graduates.  Industries are using increasingly sophisticated chemical procedures, and industrial leaders are becoming more concerned about health hazards and safety factors.
These industries need a better-trained chemistry workforce, and managers seek Ferris graduates to fill the demand. As a result, salaries are on the rise. The following companies have hired Ferris ICT graduates -- Dow Chemical, Dow Agro Sciences, Intel, Pfizer, Proctor and Gamble, Eli Lilly, Dow Corning, Kroger - Michigan Dairy, SC Johnson Wax, Pharmacia, Consumers Energy and Amway.
If you have questions regarding the Industrial Chemistry Technology program please contact us.
Ferris State University
Department of Physical Sciences
Attn: Bill Killian
ASC 3021
820 Campus Drive
Big Rapids, MI 49307-2225
Phone: (231) 591-2590
Email: killianb@ferris.edu