Electrical Engineering Technology Degree
Bachelor Degree Electrical Engineering Technology
Electronic Engineering Technology
Computer Networks and Systems Department
Ferris State University
915 Campus Drive/SWN 405
Big Rapids, MI 49307-2291
Phone: 231-591-2388
Electronics, automation, and computers are the lifeblood of today's high tech societies. The Bachelor of Science Degree in Electrical and Electronics Engineering Technology (BSEET) program graduates engineering professionals that develop, design, apply, manage and direct the future of these technologies.

Electrical Engineering Technology Graduates are prepared for careers in Industrial Automation and Controls, Digital and Embedded Systems Design, Instrumentation, Programming, or Control Networks. Our electrical and electronic engineering technology graduates often obtain positions with titles such as Control System Integrator, Product Designer, Embedded Systems Developer, Control and Network Specialist, Technical Sales Specialist, Electrical/Electronics Product Specialist, etc.

The Bachelor's Degree in Electrical/Electronics Engineering Technology is accredited by the Technology Commission of the Accreditation Board of Engineering and Technology (TAC of ABET), 111 Market Place, Suite 1050, Baltimore, MD 21202-4012; Phone 410-374-7700.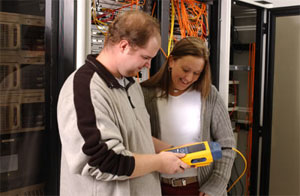 The Bachelor of Science Degree in Electrical Engineering Technology and the BS Degree in Electronics Engineering Technology are known for quality and responsiveness to industry. In addition to a solid foundation in electronic concepts, Electrical Engineering Technology Degree students learn the most current and relevant topics for today's advanced technologies. Real world theory and applications are emphasized throughout the electronic engineering technology degree program and theory is balanced with extensive hands-on experience.
The Electrical Engineering Technology Degree Program has courses that include topics in digital/microprocessors, control automation, industrial networking and motion control. Recognizing the diverse career paths our Electrical Engineering Technology degree and electronic engineering technology degree graduates may enter, Electrical Engineering Technology degree course selection can be customized by each engineering student. Electronic Engineering Technology Degree and Electrical Engineering Technology Degree career opportunities are also provided to gain valuable engineering experience through summer internships, senior design projects and professional engineering organizations.
Advance Your Career with an Electrical Engineering Degree
Electrical Engineering Technology Degree Students who have successfully completed an Associate degree in Industrial Electronics Technology from Ferris or an equivalent from another institution can usually complete the Bachelor of Science degree in Electrical Engineering Technology and Bachelors Degree in Electronics Engineering Technology in just two years.

The Bachelor of Science in Electronics Engineering Technology boasts a history of excellent placement, high starting salaries, and graduates enjoying very successful careers. The Electrical Engineering Technology degree program has strong support from several corporations influential in these fields and our Electrical/Electroncis Engineering Degree program is accredited through TAC-ABET.
Students entering the Electrical Engineering Technology Degree and Electronics Engineering Degree program must have completed an associate degree (or equivalent) in a related program and have transferable courses in mathematics through pre-calculus with a minimum 2.0 GPA in the associate degree work.

If you don't meet these requirements when you apply, you may be accepted as a 'non-major'. Upon completion of all prerequisites, admission to the program will be approved. Admission counselors should be consulted for an evaluation of transferability.
The Electrical/Electronics Engineering Technology program at Ferris leads to a bachelor of science degree. Graduation requires a minimum 2.0 GPA in core classes, in the major and overall. Electrical Engineering Technology Students must complete all general education requirements as outlined in the General Education section of the University Catalog.
Electronic Engineering Technology
Computer Networks and Systems Department
Ferris State University
915 Campus Drive/SWN 405
Big Rapids, MI 49307-2291
Phone: 231-591-2388
---
[+] Learn More About Ferris State
About Ferris State University: College classes including our Electrical Engineering Technology Degree and Electronics Engineering Degree Program, are taught at all levels by professional teachers, not graduate assistants. College students at Ferris State University, including our Electrical Engineering Technology Degree and Electronics Engineering Degree Program students, study in more than 170 different college educational programs - including doctorate degrees, masters degrees, bachelor's degree Electrical Engineering Technology and associate degree programs.
Ferris State University offers a wide variety of scholarships and financial aid. A majority of our students receive financial aid assistance. We encourage you to explore this website for more information on available scholarships and financial aid opportunities at Ferris State University. Ferris State provides all enrolled students access to a variety of academic skill-building opportunities that will assist them in their pursuit of academic excellence in a format that accommodates various learning preferences and schedules. At FSU students experience small classes with individual attention in 170 career-oriented majors leading to job placement for our graduates. FSU students also enjoy 220 student organizations for fun in a relaxed, hometown setting in the heart of Michigan's recreation area.
The group presentation, by one of our admissions recruiters, includes information on academic offerings, scholarships, housing, student life, and costs. A question and answer period follows the presentation and includes a few surprises! Lunch is provided at one of our well known dining facilities on campus. After lunch, guests may take part in a walking tour of campus led by one of our exceptional student guides. The walking tour takes approximately 1 hour.
If you would like more information on Electrical Engineering Technology Degree or would like to talk with or visit our campus in Big Rapids, Michigan contact us.
To Learn More About Ferris State University click here for the Mission Statement.