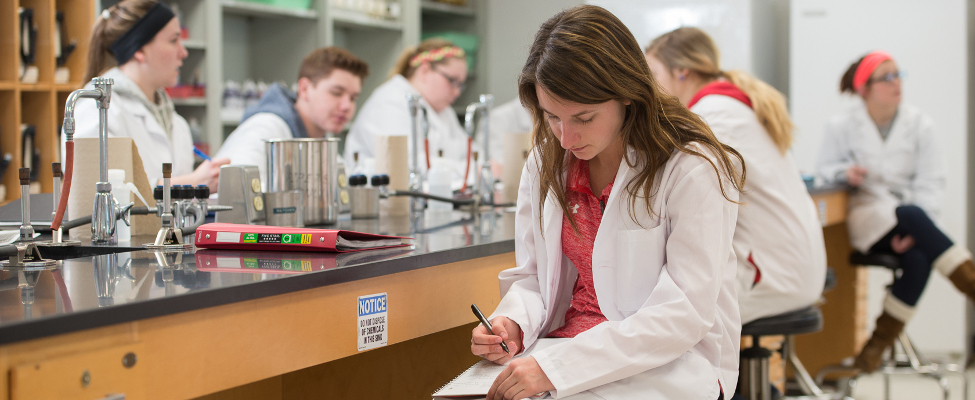 Degree Options
Students in the Department of Biological Sciences may pursue a Bachelor of Science in Biology, a Bachelor of Science in Biotechnology, or a Bachelor of Arts in Biology. Each of these programs has been designed to provide students with the knowledge and skills that are necessary for success in graduate school, professional school, or their chosen careers. A Biology Education major is offered through the College of Education and Human Services.
Students who are interested in a Bachelor of Science in Biology may choose to follow a generalized program, or they may choose one of several concentrations, including Environmental Biology, Forensic Biology, Pre-Dentistry, Pre-Medicine, Pre-Optometry, Pre-Physical Therapy, and Pre-Veterinary Medicine. The Biotechnology program prepares students for careers in biological, medical and agricultural research. The Bachelor of Arts in Biology is designed for students who are interested in careers, such as scientific illustration and environmental law, which require a fair amount of biological knowledge but also require additional skills that can be acquired through coursework in other areas.
The Department of Biological Sciences is also responsible for the John and Rhea Smith Greenhouse and the Card Wildlife Education Center. The Smith Greenhouse houses a wide variety of plants and is used to support botanical research and classroom activities. The Card Wildlife Education Center is a wildlife museum that houses nearly 200 mounts of animals from around the world.
Click here for a list of Degrees offered within the Biological Sciences Department.