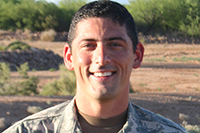 Alumnus Sparling Pursuing Law Degree as Tillman Scholar in Arizona

Joshua Sparling did not place limits on his pursuit of excellence after he lost his leg serving in Iraq as an Army sergeant. The alumnus is continuing on his professional path as a 2015 Tillman Scholar at the University of Arizona's James E. Rogers School of Law. more...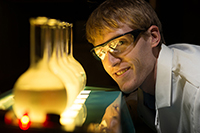 Ferris, Robertson Research Institute Collaborate on Innovative Research

Ferris and the Robertson Research Institute have announced a new collaboration designed to develop applications of precision medicine in healthcare practices.  more... 
News Headlines
» This Week at Ferris (Oct. 5-11)
» 'We Are Not Ghosts' Screening and Discussion to Address Stereotypes
» Mehlers to Judge Koppelman Award; Caryn First Undergraduate Judge
» Ferris First (#FERR1S) Bulldog Football Student-Athlete Shakur Sanders
» Latin@ Heritage Celebration Offers Cultural Insight, Social Opportunity
» Fridays are Ferris Pride Days, University Involvement Encouraged
» Read More Ferris State University News Headlines