Ferris State University News Headlines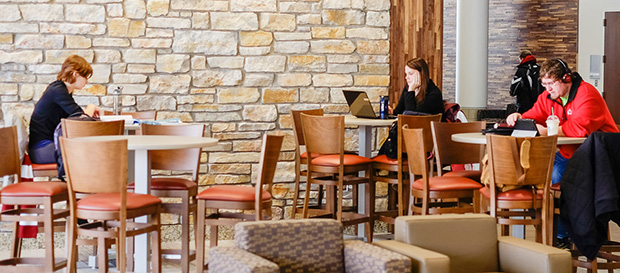 January 2016


Ferris students to head to X Games
Big Rapids Pioneer
Jan. 21
A group of Ferris State University students will depart for Colorado to participate in the 2016 X Games. Ten students from hospitality, marketing, sports management, music industry management and public relations programs will depart Jan. 25 to Buttermilk Mountain in Aspen, Colo. They will be doing guest services for the Winter X Games.


Social-justice activist to speak Thursday at Ferris
Big Rapids Pioneer
Jan. 19
Social-justice organizer Tamika Mallory will speak to Ferris State University and Big Rapids community on "Millennial Activism" Thursday, Jan. 21. Mallory is the former national executive director of the National Action Network. The event will conclude the university's 2016 Martin Luther King Jr. Celebration. 

Ferris to host 30th annual Martin Luther King Jr. Day Celebration
Grand Rapids Business Journal
Jan. 14
Ferris State University and Big Rapids communities are encouraged to participate in the 30th annual Martin Luther King Jr. Celebration Jan. 18-21 on the Big Rapids campus. Six events have been scheduled to honor King.
Read more: http://www.ferris.edu/HTMLS/news/archive/2016/january/mlk.htm


Eyes on the NFL: FSU DT Justin Zimmer hopes to continue improving draft stock
Big Rapids Pioneer
Jan. 13
After a YouTube video of senior Ferris State University defensive tackle Justin Zimmer bench pressing 225 pounds 46 times, NFL scouts got a glimpse of his athletic ability. Zimmer begins training with Michael Johnson Performance in Texas this January. He will workout for seven weeks before his pro day.


Far from fading: Beamers hope video encourages people to connect with Alzheimer's patients
Big Rapids Pioneer
Jan. 9-10
Alan Beamer, quarterback of the first undefeated Ferris State University football team, was diagnosed with Alzheimer's two years ago. After a home video posted on Facebook, Beamer's name has gone international. The video has been viewed more than 120,000 times.  

NFL Ambitions: Vander Laan set to begin training for NFL draft next week in Atlanta
Big Rapids Pioneer
Jan. 8
Jason Vander Laan concluded his career at Ferris State University and is now headed to Atlanta to begin training for the NFL draft. Vander Laan will train under Chip Smith Performance Systems for eight weeks as both a quarterback and tight end. 

Universities are in the Money
Grand Rapids Business Journal
Jan. 6
Two West Michigan universities are ranked among the top improving high-value institutions in the nation, reports the Grand Rapids Business Journal. Money, Time Inc.'s personal finance news and advice brand, recognized Ferris State University and Grand Valley State University among the top 14 public colleges and universities as the most rapidly improving high-value institutions in the nation. Read the full story at Grand Rapids Business Journal and on the Ferris website.


Instant Impact: Ferris State's Huntey, Guy Transition from Volleyball to Basketball
Big Rapids Pioneer, Page 9 (Sports)
Jan. 5
Freshman Hannah Guy and senior Alexis Huntey ended their volleyball season on December 5. Two weeks later they were back on the court, this time playing on the basketball team. 

TBAISD Early College Program Receives State Recognition
A Northern Michigan school district has been given a prestigious honor once again, TV 9 and 10 News reports. The Traverse Bay Area Intermediate School District Career-Tech Center was honored by the Michigan Department of Education with the 2016 Excellence in Practice Award. The three-year program is delivered through partnerships with TBAISD, local school districts, Northwestern Michigan College, and Ferris State University. read the full story about the Early College Program.

Fishing Club has Shot at National Title
Pioneer, Page 2C (Lifestyles)
Jan. 2-3
Ferris State's fishing club might have been given a national title by default in December if it hadn't been for the unusual Michigan weather. The North American Ice Fishing Circuit (NAIFC) Tournament Series Championship Invitational, that Ferris was to participate in, was postponed due to weather. Jake Huested and Chris Oja, Ferris students and FSU fishing club members, will compete in the championship that is rescheduled for February 6-7. 


December 2015
Running with the Big Dogs
Big Rapids Pioneer, Page 9 (Sports)

Dec. 29

Andrew and Tyler Dorantes received minimal playing time as freshmen last season on the Ferris State hockey team. This season, the brothers have stepped into more prominent roles on the team. Bob Daniels, FSU head coach, states that he's seen drastic improvements from both of them recently.

Ferris Trustees OK Academic Programs, Housing Project
Big Rapids Pioneer, Page 5
Dec. 22

The Ferris State University Board of Trustees approved a new master's program. They also expanded delivery of a doctoral program and advanced housing projects that align with the university's plan.


Power of Positivity: Late Mother's Message Fuels FSU Junior Emily Evans on the Court
Big Rapids Pioneer, Page 9 (Sports)

Dec. 22

Emily Evans' mother would always tell her how powerful positive thinking can be. Evans' mother passed away in August. Evans is on the FSU's woman's basketball team.

Ferris Salutes Nearly 700 Graduates at Commencement
Big Rapids Pioneer, Front Page

Dec. 21

Nearly 700 students graduated from Ferris State this semester. The morning session honored graduates from the colleges of Arts and Sciences, Education and Human Services, and Engineering Technology. The early-afternoon session honored those from the colleges of Business and Health Professions. Read about Commencement, here.

Twice is Nice
Pioneer, Front Page (Sports)

Dec. 19-20

Jason Vander Laan, a senior quarterback at Ferris State, won the Harlon Hill trophy for the second time. He is the only bulldog to have accomplished this, and is among the four players that have ever won it at least twice. Vander Laan is the top player in NCAA Division II.

Circle K Club Goes from Scary to Merry
Pioneer, Front Page

Dec. 17

Ferris students in the Circle K club used the money raised from their annual Haunted Hatchery event to buy Christmas presents for children. The toys were selected from the Salvation Army's Angel Tree. The students purchased nearly $4,000 worth of toys from Meijer.


Ferris Professor Leverages University Resources for Public Art
Pioneer, Front Page

Dec. 12-13

Morton Township is soliciting donations for a sculpture to place near the Morton Township Canadian Lakes Fire Station. Ferris students of Robert Barnum's classes will design the sculpture. Barnum says that this is a good way to cultivate problem-solving skills and to use the talents of the university to transform the community.

Zimmer Up for Top Defensive Honor
Pioneer, Page 9 (Sports)

Dec. 2

Justin Zimmer, senior defensive lineman on Ferris State's football team, has been chosen as one of the nominees for the 2015 Cliff Harris Award. This award is presented to the nation's top small college defensive players. Zimmer was also among the nation's nominees for the Gene Upshaw Award, which is given to the nation's top offensive or defensive linemen.

November 2015

Saturday, Nov. 14
Schempp Bolsters FSU's Top Line
Big Rapids Pioneer
Kyle Schempp is one of Ferris State's leading scorers this season. He is the junior captain of the team and is the third on the team to score 12 points thus far.