University Experts Homepage

David Pilgrim
Vice President for Diversity and Inclusion
Ferris State University
Office Phone - (231) 591-3946
Email - pilgrimd@ferris.edu  
David Pilgrim, professor of Sociology, has demonstrated a significant commitment to enhancing diversity in several vital areas. A respected author and poet, he annually assists with the University's activities in honor of Martin Luther King Jr. Day.

Perhaps his most important legacy will be the Jim Crow Museum, which he established and curates. The museum is a collection of more than 4,000 racist artifacts that Dr. Pilgrim personally cataloged and donated to Ferris State, a gift worth tens of thousands of dollars.

Pilgrim was a consultant to actor Will Smith in his directorial debut in an episode of the 2006 UPN television show, "All of Us."



Daniel Adsmond
Professor
Physical Sciences
Office Phone- (231) 591-5867
Email - adsmondd@ferris.edu
Adsmond is a professor of Organic Chemistry. He received his Ph.D. from the University of Minnesota, where he also carried out post-doctoral research on sulfa drugs in the Pharmaceutics department. He primarily teaches courses in Organic Chemistry. Adsmond's ongoing research focuses on the area of molecular recognition and on how and why certain molecules recognize and actively bind to together.


Abdollah Ferdowsi
Professor
Management Department
Office Phone- (231) 591-2465
Email - ferdowsa@ferris.edu
Ferdowsi, Ph.D., is a professor of Economics in the College of Business. He received the prestigious Distinguished Teacher Award from his colleagues in 2001. Ferdowsi joined the faculty in 1984. He has attended and contributed too many teaching-related conferences both on and off campus, including the "Learning, the Learner, and Teaching Methodology" workshop sponsored by the Faculty Center for Teaching and Learning. Ferdowsi is currently an advisor of Delta Sigma Pi. H received an Outstanding RSO Advisor of the year Award in 2009. In 2002, he received the award of Academic Excellence.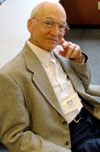 Robert Friar
Professor
Biology
Office Phone- (231) 591-2542
Email - friarr@ferris.edu
Friar holds a Ph.D. in Physiology with emphases in endocrinology, reproductive physiology, and neurophysiology and minors in biochemistry and pharmacology from Purdue University. He teaches courses in Human Physiology and Anatomy, and Human Sexuality. Friar is a member of several professional organizations and serves on a variety of committees.



Greg Gogolin
Professor
Computer Information Systems
Office Phone- (231) 591-2446
Email - gogoling@ferris.edu
Dr. Gogolin's field of expertise includes homeland security involving digital forensics and visual analysis. He has experience in information security, computer forensics and project management. Gogolin is a certified project manager and has 15 plus years of industry experience. He also is a subject matter expert reviewer for the Department of Homeland Security.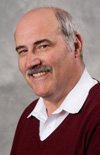 Richard Goosen
Professor
Product Design Engineering Technology
Office Phone- (231) 591-2635
Email -goosenr@ferris.edu
Goosen has been a professor at Ferris since 1993 and has served as coordinator of two CET programs since 2009. As a professor, he teaches courses in Engineering Technology related to Engineering Science and Mechanical Design. He earned a Bachelor of Science in General engineering in 1974 from the U.S. Military Academy at West Point, N.Y., Bachelor of Science in Electrical Engineering from Kansas State University in 1978, Master of Science in Electrical Engineering from Ohio University in 1985 and was awarded a Ph.D. in Educational Leadership from Western Michigan University in 2009. Goosen, was named Ferris State University's Distinguished Teacher Award winner in spring 2010.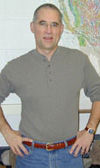 Frederick Heck
Professor
Physical Sciences
Office Phone - (231) 591-2588
Email - heckf@ferris.edu
Heck is the resident geologist at Ferris State University. He holds a Ph.D. in Structural Geology from Northwestern University. Currently, he advises students in the pre-pharmacy program. He teaches non-geology majors about the wonders of Earth through courses in Physical Geology, Historical Geology and Earth Systems Science. Heck leads students on a two-week summer field trip to the Canyon Country of southern Utah to explore the geology and national parks of that region. In 2005, Heck's excellence in teaching was recognized with the university's prestigious Distinguished Teacher of the Year Award.

Susan K. Jones
Professor
Marketing
Office Phone - (231) 591-2468
Email - joness@ferris.edu 
Jones' field of expertise includes direct marketing, e-commerce marketing and advertising copy. She is the author of more than 20 books on direct and interactive marketing, collectibles and time management. She is the winner of multiple lifetime achievement and marketer of the year awards. 

Bill Killian
Professor
Physical Sciences
Office Phone - (231) 591-2590
Email - killianw@ferris.edu 
A native of Chicago, Ill., Killian is employed as a professor in the physical sciences department at Ferris State. Killian works as a teacher of both General Chemistry and Industrial Chemistry courses and serves as coordinator of the Industrial Chemistry Technology program. Killian has worked at Ferris since 1987.

Melinda Isler
University Archivist and Special Collections Librarian
Special Collections, FLITE
Office Phone- (231) 591-3731
Email - mcmartim@ferris.edu
Isler's field of expertise includes the history of Ferris State University, Big Rapids, Mecosta County, and archival and preservation issues.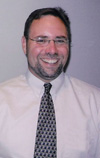 Joseph Lipar
Associate Professor
Biology
Office Phone - (231) 591-2660
Email - liparj1@ferris.edu
Lipar is an associate professor of Biology and director of the Card Wildlife Education Center. He has a primary expertise in animals, but mostly enjoys birds. He is coordinator of Biology as well. Lipar has taught at Indiana University and received the Teaching Excellence Recognition Award in 1999.
Barry Mehler
Professor
Humanities
Office Phone - (231) 591-3612
Email - mehlerb@ferris.edu
Dr. Mehler's field of expertise includes the history of science, eugenics, racism and science, and genocide and science. He is the founder and director of the Institute for the Study of Academic Racism. The following Web site provides more information about ISAR- www.ferris.edu/isar.

Mary Murnik
Professor
Biology
Office Phone - (231) 591-2546
E-mail - murnikm@ferris.edu
Murnik teaches Principles of Genetics, Genetics: Human Aspects, and Evolution. She chairs the Pre-dental Advisory Committee and is a Dental Admission Test Constructor, Biology Content Area, for the American Dental Association. Murnik received the Distinguished Teacher Award from her academic colleagues in 2007. She was also honored with the Martin Luther King Social Justice Award in 2004, the Ferris Professional Women Woman of the Year award and the Michigan Association of Governing Boards' Award for Teaching Excellence in 1998.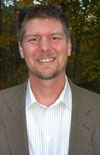 Glen Okonoski
Associate Professor
Television and Digital Media Production
Office Phone - (231) 591-2709
E-mail - okon2@ferris.edu
Okonoski is a graduate of Ferris State University with a bachelor's degree in Television Production and a master's degree in Career and Technical Education. He joined the faculty at Ferris in August 2006. He has worked in the media production department of Grand Rapids Community College and continues to work as a freelance videographer and editor.
Glen has produced over 80 episodes of the award winning "Cooking with Angus Campbell" television series, as well as producing videos for the Grand Rapids Area Chamber of Commerce, YWCA, Meijer Corporation, Van Andel Institute, Grand Rapids Allergy, the River Bank Run, and others. He primarily teaches production-oriented classes related to both field and studio production.

Jim Rumpf
Professor
Manufacturing
Office Phone - (231) 591-3591
Email - rumpfj@ferris.edu
Rumpf's field of expertise includes manufacturing engineering, lean manufacturing, green manufacturing, automation, industrial engineering and computer applications.

David L. Russell
Professor
Languages and Literature
Office Phone - (231) 591-2526
Email - russelld@ferris.edu
Dr. Russell's field of expertise includes children's literature, especially poetry, biography and fiction; and children's picture books and folktales. He has published widely on these topics, including scholarly articles, two critical biographies and a college textbook currently in its 5th edition that is used throughout the country
Gary Rodabaugh
Professor
Biology
Office Phone - (231) 591-2308
Email - rodabaug@ferris.edu 
Dr. Rodabaugh's field of expertise includes serving as a private consultant for environment health and safety, which includes indoor air quality, accident investigation, mold exposure, construction defects and other EHS subject matter. Rodabaugh also has served as a local, state, regional, national and international consultant/expert witness in environmental exposure cases. His primary qualification for testimony on mold and construction defects stems from his certification as a licensed builder in the state of Michigan, as well as being a Certified Hazardous Material Manager at the master level. He has acted as a consulting expert for approximately 20 fuel oil spills in Ontario, Canada, and conducted air quality/exposure investigations for the Caribbean island nation of Antigua. 

Cami M. Sanderson
Associate Professor
Humanities
Office Phone- (231) 591-2995
Email - sandersc@ferris.edu
Dr. Sanderson's field of expertise includes research of the airline industry, specifically customer service, air rage, and communication and the airlines. She also specializes in gender and family relationships, and family and the role each child plays.

Karen Strasser
Interim Dean
College of Arts & Sciences
Office Phone - (231) 591-2550
Email - karenstrasser@ferris.edu
Dr. Strasser's expertise is in marine biology, development and ecology. She has conducted research on the systematics and biogeography of decapod crustaceans. As part of that, Dr. Strasser did comparative studies of larval development (including observations on morphology, number and duration of the larval stages) to infer phylogenetic associations. She also did comparative morphology. Strasser has researched larval ecology and its effects on development, dispersal, settlement, recruitment and behavior of marine invertebrate larvae (particularly with decapod crustaceans). As part of that research, she focused on environmental factors such as temperature, salinity and light. Strasser also focused on human impacts such as pollutants, pesticides, fertilizers and biological factors such as conspecifics, competitors, predators, tannins and other species associated with the adult habitat.

Khagendra Thapa
Surveying Engineering Professor

Office Phone - (231) 591-2672

E-mail - Khagendra_Thapa@ferris.edu

Dr. Thapa's field of expertise includes Geodesy, Surveying, GPS, GIS and Accreditation (especially ABET Accreditation). He is also a Commissioner of ABET. He was elected to serve as president of Ferris State University's Academic Senate during the 2013-14 academic year.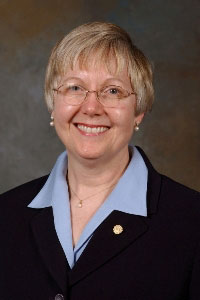 Sandy Alspach
Professor
Communication/Humanities Department
Office Phone - (231) 591-2779
Email - alspachs@ferris.edu
Sandy Alspach has more than 40 years of coaching experience with high school- and college-level competitive debate and speech. Alspach has been teaching and studying intercultural and diversity communication for more than 20 years. She is involved with curriculum development, such as course design and instructional strategies, and student activity development and advising.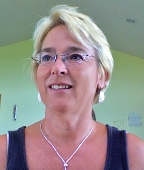 Sandy Balkema
Professor
English/Interim Department Head, Languages and Literature
Coordinator, Technical and Professional Communication program
Office Phone - (231) 591-5631
Email - balkemas@ferris.edu
Sandy Balkema has been a professor at Ferris State University since 1984. Her expertise is in writing and editing, including business, technical and professional writing. Balkema also is an expert on professional and technical writing careers, career-tracks, opportunities and trends, corporate training (online and traditional), and assessment and evaluation.

Outside of Ferris, Balkema has written, edited and produced many corporate training programs. She has had the honor of working with companies such as Meijer, Amway, HP, Steelcase, Dematic and Anheuser-Busch. She has written, edited and produced technical/professional documents, including four self-study documents for Ferris related to NCA/HLC accreditation.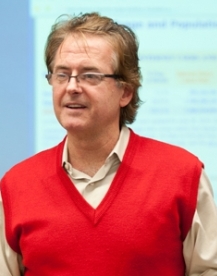 Clay Dedeaux
Associate Professor
Marketing
Office Phone - (231) 591-2448
Email - claydedeaux@gmail.com
Clay Dedeaux has more than 30 years of experience in advertising management. He has specialized in brand and retail advertising campaigns for such companies as BMW, Mercedes-Benz and Volkswagen. He was the senior vice president at Arnold Worldwide in Boston from 1998 to 2008.

Dedeaux has been the guest speaker at numerous advertising agency events, and has experience as a consultant to Chicago-based media companies WMAQ TV, WBBM-AM and DDB Advertising.

David Steenstra
Department Head
Management
Office Phone - (231) 591-2427
Email - steensd@ferris.edu
Higher education has been Steenstra's passion for most of his life. He has taught at nine universities, including one in Europe and one in Russia.

Concurrent with college teaching and various administrative roles, Steenstra is an entrepreneur. His company, D.J. Steenstra Company, has conducted corporate training and consulting programs for more than 500 clients worldwide.
Steven Fox
Associate Professor/Torch Adviser
English and Journalism
Office Phone - (231) 591-2529
Email - stevenfox@ferris.edu
Steve Fox has been involved with the newspaper industry for more than 20 years. As a journalist, his assignments included coverage of local and county government, and breaking news, such as the Oklahoma City bombing. He also covered a wide range of sports, from community and high school athletics to NBA, Major League Baseball and college sports.

Fox is a member of the Michigan Collegiate Press Association and maintains close connections with newspaper industry professionals throughout Michigan and other states. He advised the Grand Rapids Community College student paper, The Collegiate, for two years, before joining Ferris and becoming adviser for the Ferris State University student newspaper, The Torch.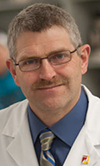 Clifton Franklund
Program Coordinator/Associate Professor
Biology
Office Phone - (231) 591-2552
Email - franklc@ferris.edu
Clifton Franklund has a strong and versatile expertise in areas that include medical microbiology, general microbiology, and more. 

Franklund was named the 2011-12 Distinguished Teacher Award recipient at Ferris State University.
In February 2014, Franklund was appointed coordinator of General Education.  

James P. Scott
Professor
Biology/Campus Veterinarian
Office Phone - (231) 591-2620
Email - JamesScott@ferris.edu
James P. Scott teaches courses in Human Pathophysiology, Forensic Physiology and Anatomy I, Human Physiology and Anatomy II, Human Anatomy and Physiology I, Human Anatomy II and General Pathology for Optometry.

His expertise includes canine, feline, reptile and avian internal medicine and surgery, Human Anatomy and Physiology, Comparative Anatomy and Physiology, Histology, Pathology and Pathophysiology.

Beverly DeMarr
Professor
Management
Office Phone - (231) 591-3756
Email - demarrb@ferris.edu
Beverly DeMarr teaches courses in compensation, human resource management and negotiation.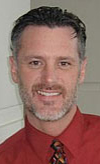 Patrick Bishop
Associate Professor
Public Relations
Office Phone - (231) 591-3151
Email - PatrickBishop@ferris.edu
Patrick Bishop has an extensive background of public relations experience including his work as communications officer for the Fremont Community Foundation and his role as vice president of marketing and sales for Dickies-FPI.
He accredited in public relations by the Public Relations Society of America, he is a board member for the West Michigan PRSA and is accreditation chair for the WMPRSA.