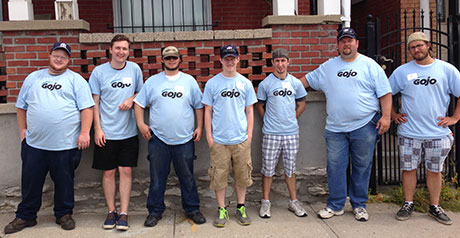 This summer's SkillsUSA Championships in Kansas, City, Mo. included more than competitions with highly-skilled students.
Ferris State University's group, one that included six College of Engineering Technology students, volunteered to assist people in need in the Kansas City community. Advisor and trainer Daniel Wanink, a professor in Ferris' CAD Drafting and Tool Design Technology program, noted that the group was among hundreds who stepped up for community service during the conference. The Ferris team volunteered at a local shelter. Wanink said that the group helped with building cleanup and served food to homeless individuals and families.
"I really had my eyes opened and I know that our students, who volunteered for this, felt the same way while giving a little back to the community, in Kansas City," Wanink said. "It's hard to really understand some of the challenges that people are facing until you come face to face with it through opportunities like this one. It was an eye-opening experience for all of us."
Volunteers chose from five options to give back to the community. The options included packing food at a local food bank, gardening and landscaping for Kansas City Parks and Recreation, cleaning and painting at a mission, performing cleanup tasks at the homeless shelter and yard cleanup and gardening at a local museum.
The community service efforts were sponsored by GOJO Industries, Inc. GOJO is the inventor of PURELL Advanced Instant Hand Sanitizer and the leading global producer and marketer of skin health and hygiene solutions for away-from-home settings.
"Service is core to the mission of SkillsUSA. SkillsUSA students in our chapters across the nation perform thousands of hours of service to their communities throughout the school year," said SkillsUSA Executive Director Tim Lawrence. "The national service project in Kansas City is the culmination of this year-long outpouring of support for communities across America. SkillsUSA is thrilled that GOJO is stepping up as our national champion for service."

Wanink and the students enjoyed their volunteer efforts.
"This was a great opportunity for so many students, faculty and staff who were participating in the SkillsUSA Championships to give something back to the Kansas City community and to say 'thank you' for hosting us," he said.
Wanink accompanied students Matt Haan, of Lowell, and Andy Doane, of Muskegon, who were medalists at the SkillsUSA Championships. Haan won a gold medal in Technical Drafting while Doane was a silver medalist in Diesel Equipment Technology. Also part of the group were Nick Carrington, of Brimley; Matt Husse, of Fenton; Isaac Scheid, of Whitehall; and Cody Smits, of Cedar Springs.
Each SkillsUSA Championships contestant was a state-level gold medalist.
The weeklong SkillsUSA national conference typically hosts more than 15,000 people. Attendees include business partners, students and teachers. More than 6,000 career and technical education students compete in 99 different leadership, technical and trade fields. In timed and competitive events, students showcase their expertise in computer-aided drafting, culinary arts, electronics, medical assisting and precision machining.
SkillsUSA Championships, first held in 1967, are made possible through industry support. Test competencies are established by industry. The contest has grown from 54 competitors in three contests to, in 2014, more than 6,000 competitors in 99 hands-on skill and leadership contests. The SkillsUSA Championships feature approximately 1,100 judges from business and labor.