On March 4th, Maycee Robinson, Shari Wessels, Rachel Mroz and Margaret Lazarowicz attended the Women in Construction luncheon.  This annual event is sponsored by the National Association of Women in Construction GR Chapter 194 and is held at the YMCA of Greater Grand Rapids.

 Three Heavy Equipment students and members of the Ferris Fleet Management RSO, Brandon Grosvenor, David Johnson, and Joshua VanBruggen, will be attending the NAFA Institute and Expo from April 13th - 17th in Orlando, FL. as fully funded guests of NAFA.

 Heavy Equipment student Paul Laskowski, was recently awarded the DaSilva Award.  He will also be attending the NAFA Institute and Expo where he will accept his $3,000 scholarship from the NAFA Educational Foundation.

 Ferris State University and Kent Career Technical Center Heating, Ventilation, Air Conditioning, and Refrigeration Represented at SkillsUSA State Competition- 2015.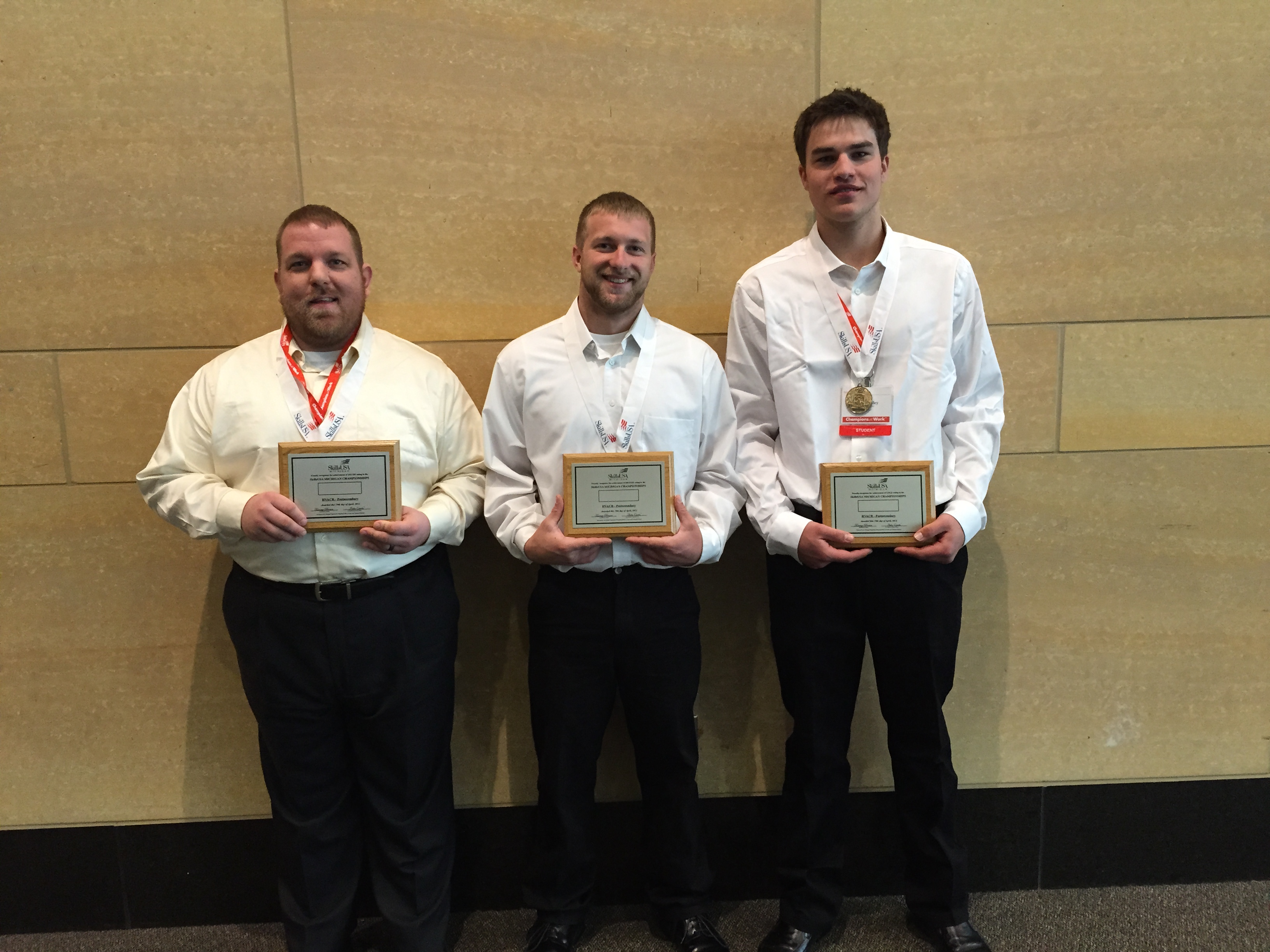 February 5 through the 8, Ferris State University was represented at the 17th Annual Michigan International Auto Show at DeVos Place in Grand Rapids. Members of the Ferris Formula SAE, Baja SAE, and Formula-Hybrid teams were present to greet visitors, answer questions about their projects and vehicles on display, and talk about their education at Ferris. Colin Kuznair also interviewed with TV8.

 Among the Ferris State winners of All-America Awards for the USA College Football Division II All-America Team is Computer and Engineering Tech student Trevor Bermingham. For his outstanding performance this past football season, Trevor has received the USA College Football All-America Honorable Mention.

 In conjunction with the Ferris State University Fine Art Gallery exhibit "Disparate Elements: A Steampunk Revolution," sophomore architecture students in the ARCH 290: Architectural Design Principles class were asked to "Steampunk Big Rapids."  Given two weeks to complete the project by architecture professor Christopher Cosper, the second-year students had the opportunity to test newly-acquired design and Photoshop skills.

 On Tuesday, February 17, a group of twenty Architecture and Facility Management students led the Big Rapids' Festival of the Arts event - Lego Architecture for 100 local schoolchildren and community members. Ferris students presented a brief history of fifteen historic and monumental works of architecture, then led the schoolchildren in constructing scale replicas using Legos. The event provided an opportunity for Ferris students to engage on a personal level with the local community as they used Legos to guide participants through the architectural design process.