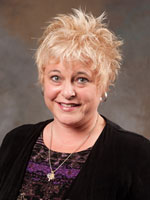 Director
phone: (231) 591-3204
Office: SWN 312
E-mail: dawsond7@ferris.edu
Licenses and Education:
New York State Professional Engineering License
Master of Science in Electrical Engineering, Rochester Institute of Technology, Rochester, New York
Bachelor of Science in Electrical Engineering, Wayne State University, Detroit, Michigan
Background:
Debbie has extensive experience in the application of technology for both industry and education. As Dean of Business and Advanced Technology at Kalamazoo Valley Community College, Debbie implemented the state's first Wind Energy Technician program, revamped curriculum to meet the latest industry standards, and instituted programs for high school students to expose them to college opportunities. In the classroom, Debbie has developed and delivered programs ranging from Science classes for second graders up through specialty electronics courses for graduate students (and everywhere in between!).
In the corporate world, Debbie's experience includes facility work, new product development, applied research, and quality improvement for electronic manufacturing processes. She was also awarded a patent for her work with film scanners. She is an "alumni" of Eastman Kodak and Stryker Instruments.
Debbie enjoys finding innovative solutions involving multi-disciplined teams. Her particular passion has involved the green energy revolution and programming to support new programs in that field.
MEMBERSHIPS and COMMUNITY INVOLVEMENT:
Michigan Society of Professional Engineers (MSPE)
Institute of Electrical and Electronics Engineers (IEEE)
Electrostatic Discharge Association (ESDA)
Junior Achievement
Education for Employment Advisory Committee
Western Michigan University Electrical and Computer Engineering Advisory Committee
Community Living Options Board of Directors - past president
Niles Haunted House
YWCA Mentoring Program