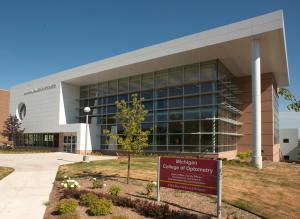 Practical Training for Opticians
September 22-23, 2017
Registration
The Michigan College of Optometry of Ferris State University, in its ongoing role of supporting the educational needs of eyecare professionals, announces the offering of the course, Practical Training for Opticians.
This course is being held as a response to the common question heard from eyecare professionals: "Where do I send a staff member who is new to the optician role to learn the fundamentals necessary to provide quality care to my patients?"
This course is intended for Optometry or Ophthalmology personnel who are performing optician tasks and are new to the position. Limit of 20 attendees per course to ensure maximum interaction with our expert instructors.
Friday, September 22, 2017- 8 a.m.- 5 p.m.
and Saturday, September 23, 2017- 8 a.m.- 12 p.m.
$395 per attendee/course, which includes 12 hours of instruction, handout materials pertaining to area of instruction, continental breakfast and lunch each day, and an evening dinner event.
Lodging is not included in the course registration fee. Available lodging options in Big Rapids, Michigan include:
Course Instructors
James (Jamie) Brady, ABOC, M.Ed.
James is a graduate of the Ferris State University Opticianry Program. With 31 years of experience in the optical field, he currently teaches ophthalmic optics to the optometry students at the Michigan College of Optometry at FSU. Jamie often lectures on optician topics on a national basis.

Tracy Dard, ABOC, NCLEC
Since Tracy received an Optician's Degree from Ferris State University, she has worked in private practices and an educational environment. Both ABO and NCLE certified, she often lectures on opticianry related topics. Currently, she manages the dispensary and fabrication lab at the Michigan College of Optometry.
Course Content
This course is not for CE, nor is it ABO certification test preparation.
Basic options will be presented with emphasis on the sphere, cylinder, axis, and add components of the spectacle prescription. Prism will be discussed with emphasis on why/what it is used for and what it looks like in the finished lens form. The hands-on component will teach lensometry to measure and verify the basic Rx, add, and prism.

Lens types will be described to include single vision, aspherics, bifocals, trifocals, executive styles, PALs, and task specific designs. Special emphasis will be placed on PALs, discussing the various designs, manufacturers, and markings.

The process of how lenses are made will be demonstrated in the Fabrication Laboratory to provide an understanding of the procedures for manufacturing from start to finish.

A review of lens materials will include index of refraction, abbe values, density, UV, photochromics, polarized, product availability, and more. Moderate and high minus and plus power lenses will be fabricated in different lens materials and refractive indices to demonstrate how this impacts their thickness, weight, and cosmetic appearance.

Lens treatments will be described in-depth to include anti-reflection, scratch resistance, coatings, mirrors, and hardcoats.

Identifying face shapes-diamond, heart, pyramid, oval, rectangular, round or square, bridge types, and temple options. Plastic frames made from cellulose acetate/zyl, cellulose propionate, nylon; frames made from metals such as monel, titanium, beryllium, stainless steel, flexon, aluminum, and other frame materials will be discussed and demonstrated.

To ensure that patients have easy adaptation, maximum visual acuity and overall wearability of their eyewear, it's important to properly acquire accurate measurements for their lenses and frames. Proper measurement techniques for pupillary distance (PD), optical centers, seg/multifocal height, bridge size, and temple length will be described followed by a workshop where hands-on experience will be provided.

Parallel tip, nylon jaw, pad adjusting, snipe, and angling pliers and their use will be demonstrated. Also described are various screwdrivers, cutters, and the lens caliper. Emphasis will be on the most common basic adjustments for nose pads, temples, pantoscopic and retroscopic tilt, customizing frames, and zyl vs. metal techniques.

A hands-on workshop will provide the opportunity for the attendee to learn about in-office repairs such as screw replacement, restringing, figure 8, drillmounts, and spring hinge replacements.

Methods to become a savvy dispenser will be discussed as will the do's and don'ts of lens/frame selection (ex. plus Rx and grooved frames) and fundamental troubleshooting techniques based on patient symptoms.
Sponsors
| Gold Sponsors | Bronze Sponsors |
| --- | --- |
| | |