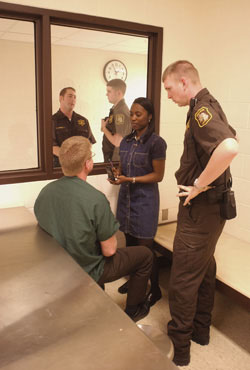 Ferris State University's School of Criminal Justice has opened a local Corrections Officers Training Academy that is designed to provide certification training for students wishing to work as jail corrections officers.
With approval from the Michigan Sheriff's Coordinating and Training Council (MSCTC), the school has opened a Corrections Officers Training Academy. Although Ferris will not be responsible for providing certification, completion of the academy will allow students to become eligible for certification from the MSCTC.
Students already enrolled in the School of Criminal Justice bachelor's degree program, on either the corrections track or the generalist track, can enroll in "Applied Correctional Strategies I and II". Successful completion of these two courses in will make them eligible for certification through the MSCTC. This class is only open to students enrolled in criminal justice at Ferris State University.