President of Ferris
Woodbridge N. Ferris 1884-1928
On January 6, 1853, Woodbridge Nathan Ferris was born near Spencer, Tioga County, New York. After years as an educator and school administrator, Mr. Ferris, along with his wife, Helen Gillespie Ferris, founded the institution in 1884 as The Big Rapids Industrial School. It began in temporary quarters in the Vandersluis Block (present location of J. C. Penny Co.) of Big Rapids. In January 1885, Mr. Ferris changed the name of the Big Rapids Industrial School to the Ferris Industrial School. In 1894 with steady enrollment growth the Ferris Industrial School moved into and dedicated its new building (Old Main) on the corner of Oak and Ives Streets.
After the school lost money in multiple bank collapses, Mr. Ferris founded and became the first president of the Big Rapids Savings Bank in 1902. In 1898 the name of the school was changed from the Ferris Industrial School to the Ferris Institute.
On January 1, 1915 Mr. Ferris was inaugurated to his first of two terms as governor of the State of Michigan. On November 7, 1922, Mr. Ferris was elected United States Senator from Michigan. He would remain president of the Ferris Institute throughout his life in business and politics until his death on March 23, 1928. His vision of education for all Americans, all of the time still guides the institution today.
---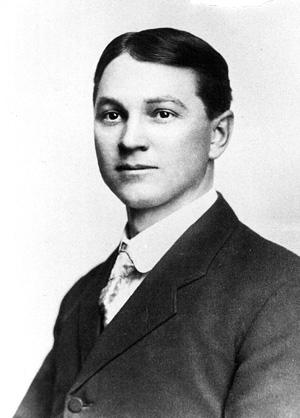 Gerrit Masselink 1928-1929.
In 1896 W. N. Ferris hired Gerrit Masselink and H.H. Barrows. Masselink was hired as the second in command and to teach mathematics. Mr Ferris offered Masselink the job on the condition that his summer session was satisfactory. Then he said he would give Masselink $70 a month or $840 for the full, or if there is no school on a holiday, he loses that time." He also advised Masselink that he would locate a rental house for him. "Cottages range from five to 10 dollars per month according to location," he wrote.
Masselink was a success. He and Ferris complemented each other. Ferris didn't like athletics, but when Masselink saw an impromptu football game in progress he would jump in and coach it. Alumni report that when Ferris expelled a student for some infraction of a rule, Masselink would realize that was lost tuition and "sneak the student back in through the back door so to speak." During World War I Masselink was county chairman of the Red Cross, and Mr. Ferris was county chairman of the War Board.
Before he went to Washington in 1923 to take his seat in the Senate, Mr. Ferris sold his school. Most of the stock went in equal amounts to then vice president Gerrit Masselink and business manager Bert Travis. Travis along with Masselink and Ferris, was one of the three people who guided the school through its early years.
Even though the Masselink and Travis investments amounted to $35,000, making them the principal stockholders, W.N. Ferris continued to act like the president of the school and to hold the title. Masselink kept Ferris apprised of everything that was happening through a series of progress reports. By 1925 the progress reports had become a weekly activity for Masselink.
When W.N. Ferris hired Gerrit Masselink in 1898, he had in mind turning the mantle of the Institute over to him when the time came. Thus it was a foregone conclusion that Masselink would succeed Mr. Ferris on the senator's death. Masselink had already served as director of the school while Mr. Ferris was governor.
Masselink, like Ferris, had been born in a log cabin. His birthdate was July 3, 1872, near what is now Oakland, Mich. Mr. Ferris had intimated to him when he hired him that if Mrs. Ferris should retire that he, Masselink, would help guide the school. Mr. Ferris kept telling Masselink that he couldn't pay him as much as he was worth, but in the end Masselink would be rewarded. Unfortunately the reward was short lived. Masselink died just 13 months after Mr. Ferris' death.
Masselink knew the rules that Mr. Ferris had run the school by, and Mr. Ferris had taught Masselink well. But Masselink was more amenable than Ferris. He often placated a student scathed by W.N. Ferris' sarcasm.
Masselink loved athletics. He had been a high school wrestler of some talent -- a heavyweight champion -- and when he saw a football game or a baseball game he would get right in the middle of it, good clothes and all, and serve as coach. He often used his own money to provide equipment or material for an FI team.
The administration of the school remained pretty much the same under Masselink as it had been under Ferris. Masselink's major concern was a building fund the school had launched while Mr. Ferris was in Washington.
Early in 1929 Masselink was stricken with typhoid fever, misdiagnosed for a few weeks as influenza. While he was in his sick bed plans were afoot at the school to build the Alumni Building -- at that time planned to be named the Woodbridge N. Ferris Memorial Building. The city of Big Rapids had pledged $20,000 to the school for the building, but the indications of an economic depression were evident, and a businessman called Masselink to state that he was not sure under the present economic conditions that the school could depend on this pledge.
Masselink, who had just taken a turn for the better, got up and went around town in the pouring rain seeking assurance from the businessmen that their pledge would be honored. He later caught pneumonia, from which he never recovered. He died April 25, 1929.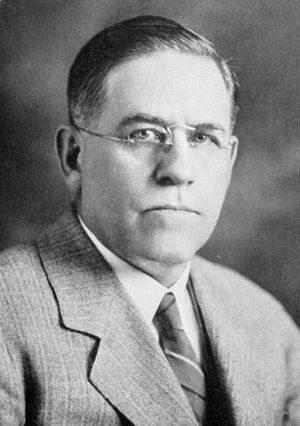 Alpheus A. Worcester, 1929 - 1930 (acting)
In 1929 the institute trustees realized there wasn't any money to pay for an acting president while the institute searched for a new president. Alpheus A. Worcester, a local attorney, agreed to assume the presidency without salary, charging only administrative costs for executing documents. Worcester took over the reins of the school as a courtesy president, serving without pay and not really spending much time on the campus.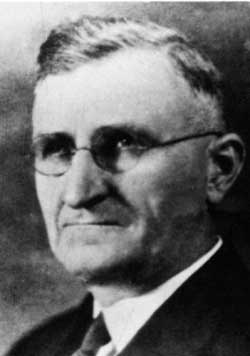 Wells D. White, 1930 - 1931
The first paid president in the interim period between 1929 and 1950 when the school received state college status, was Wells D. White, who served during the 1930-31 school year.
His appointment was prompted by a glowing letter written Jan. 31, 1930, by B.J. Ford, one of the assistants of the state Department of Public Instruction to A.A. Worcester. Ford wrote that White, then superintendent of the Hartland Consolidated Schools, was interested in securing a teaching position at an institution such as Ferris Institute.
Ford said, "He [White] has been employed in his present position for nine years and has been more than ordinarily successful in putting over a big development program. In connection with this, he has enlisted the cooperative interests of a couple of millionaires who have created an endowment for the Hartland Foundation. They have also presented the district with a $25,000 library and other valuable gifts. My thought is that if he were to be employed as a teacher at the Ferris Institute he might be able to help your institution make a connection with these millionaires that would be of substantial value to the school." The college's administrators didn't waste much time in contacting White, not to offer him a teaching job, but the job as president. During his tenure no millionaires were forthcoming to get the Institute "out of hock," and White left completely frustrated at the end of the year to return to Hartland.
Ernest E. Brown, 1932 - 1936
Ernest E. Brown resigned his post as president of Southwestern Teachers College in Weatherford, Okla. to accept the post at Ferris Institute on Nov. 10, 1932. Brown had an enviable record as an educator. He taught at country schools, city schools, high schools and colleges, and he had been president of the Southwestern Teachers College since 1927. He had been superintendent of schools in Oklahoma and chief high school inspector for the state.
Arriving at Ferris, Brown had to cope with the debt-ridden school as best he could. On April 13, 1933, he reported to the trustees that at the end of the term on May 20 there would be a debt of $8,000 which the school could not pay. He recommended that the trustees divide up the deposit in the bank among the teachers and the creditors so that each would get something. He also suggested that the next year the school retain three-fourths of all tuition collections up to $30,000 to pay directly to the teachers without it going into the incorporators' coffers.
Brown bucked the system and the school's indebtedness for three years. In February, 1936, he was named president of Northwestern State Teachers College at Alva, Okla. During his three years at Ferris he did increase enrollment and morale. At the end of his tenure, enrollment had risen about 50 percent, but still was 30 percent below previous highs.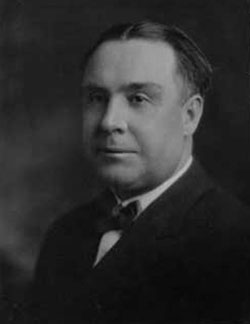 Emanuel M. Clark, 1936 (acting)
By virtue of his appointment by the Board of Incorporators, E.M. Clark had already served as acting president between the resignation of Wells White and the appointment of Ernest E. Brown. When Brown left, Clark took the reins for another year.
Merle S. Ward, 1938 - 1946
Merle S. Ward arrived in 1936 and set a record for tenure up until that time, second only to W.N. Ferris himself, holding on to command of the college for 10 years. He was highly educated, holding two bachelor's degrees, one from Indiana University which for a long time billed itself as the mother of college presidents. He also had a master's degree and a Ph.D. degree from Columbia University. He set in motion plans for trades' programs in refrigeration, electrical appliance repair, drafting, retail store management, and watch and clock repairing. He established a library with a qualified librarian, raising the acquisition list from 3,000 to 13,000 volumes. He was an excellent speaker, making a good impression on his audiences, and like Mr. Ferris, made numerous public speeches. He organized alumni clubs and made the first effort in the school's history to gather alumni at spots off campus. Even the Ferris Cooperative Association had not attempted to organize alumni off-campus activities.
World War II was much more devastating to the Institute than was World War I. In 1944, enrollment had dropped to 48 students. A dozen faculty members, including the president, remained to teach them. To raise money, the school sold its football and band uniforms. This was the worst year. However, by the time Ward left the presidency, things were slightly on the upswing.
Ward left in April of 1946. In his resignation letter he said that he felt an obligation to remain at Ferris during the critical years of austerity, but now that it was assured that the college would not go under, he felt he could resign. He went to Valley City, North Dakota, as superintendent of schools.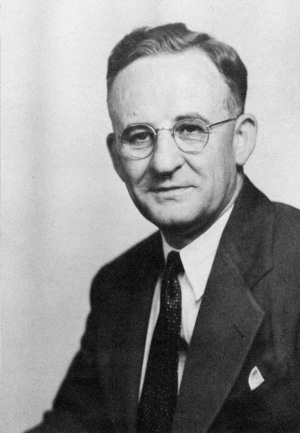 Byron J. Brophy, 1946 - 1952
Brophy was a native of Nova Scotia and had worked as an engineer in India and Australia. He, too, had some work at Indiana University and had spent nine years in public school administration in Indiana. Sometime during his engineering years in India he had lost part of a leg; he later wore an artificial one but very few people were aware of it.
Most significant of all, he had served as superintendent of Indian Education in Flandreau, S. Dakota, where he directed a fully accredited senior high school specializing in training for the trades. He had also served as a director of the National Youth Administration (NYA) where he was assigned to develop training programs for critical war industries, and he served in the War Assets Administration where he was involved in a program designed to dispose of surplus war property as it was adaptable to the needs of education in the nation.
Those who worked closely with Brophy were impressed by his "I care" attitude about the Institute and felt that whatever he did to save money for the Institute was in the best interest of the school. Brophy's genuine interest in the school led him to continue looking for a buyer for it, following the pattern begun by the trustees under President Ward. Under Brophy's leadership, the school was free of debt but Brophy feared that a depression or an enrollment slump would set it back again.
Brophy orchestrated the transfer of ownership of the Ferris Institute to the State of Michigan. Governor G. Mennen Williams signed the Smith-VanderWerp Bill in his Lansing office on May 18, 1949. Public Act 114, of the Public Laws of Michigan 1949, provided that on July 1, 1950, one of the oldest colleges in Michigan would become the newest state college. The legislative act mandated that Ferris be operated and maintained in accordance with curricula established through the years.
Brophy was also president on the tragic historic evening of Feb. 21, 1950, when fire struck, virtually destroying the Institute. The fire was a surprise even though many thought of Old Main as a fire trap. The stress of the fire along with personal problems and Parkinson's disease played havoc with Brophy's health and he resigned in 1952. He was named President Emeritus in 1954.
In recognition of his achievements in spearheading the transfer of the Institute to the state, Brophy was honored by having a dormitory named for him shortly before he died in 1962. The college also conferred on him an honorary degree.
Karl G. Merrill, 1952 (acting)
Karl Merrill had a long history of service to the Ferris Institute. In 1939 the trustees chose him as one of the administrators of the school's affairs, naming him chairman of the Institute. When Byron Brophy was due to take over his duties as president on July 1, 1946, he was delayed in Washington until July 10. Brophy asked the Board of Trustees to appoint then dean Karl Merrill as Acting President until he could actually be on the scene. Brophy then proceeded to give Merrill a list of matters to attend to before he came to Big Rapids.
When the trauma of the Old Main fire (along with some personal problems) had aggravated President Brophy's Parkinson's disease, it became more difficult for him to administer the school. At the beginning of 1952, Brophy resigned and Karl Merrill was once again named acting president.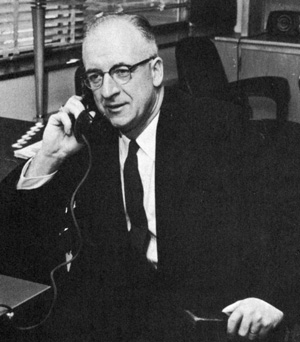 Victor F. Spathelf, 1952 - 1970
Victor F. Spathelf lettered in track for four years at Wayne State University from 1928-1931. He ran the 440-yard dash and was also a member of the Wayne State Championship one-mile relay team from 1929-1931. Spathelf won first place medals in the Michigan Collegiate Athletic Conference in 1930 and 1931. Spathelf also earned an outstanding academic reputation during his collegiate career. He won both the Howard A. Donnelly and Mackenzie Honor Society Awards in 1931. He also served as his class president for four years.
Spathelf went on to become the Dean of Men at WSU in 1941-1942, then the Dean of Student Affairs from 1946-1950. He became president of Ferris State College in Big Rapids in 1952, the first WSU undergrad to ever become a college president. He remained in that post until 1970. In 1962, he was president of the Michigan Council of College Presidents.
The Ferris Institute was a small, isolated, vocationally-oriented school which had established a fine reputation as a private school when Victor F. Spathelf came as the tenth president in 1952. Under Spadhelf the Institute underwent an unprecedented period of growth. The first wing of the Science Building, which housed laboratories and classrooms for pharmacy and science, was finished in late 1956. The Trade and Industrial Center was completed in 1957. It housed a myriad of trade courses which had been scattered around off campus and in war surplus barracks on campus. The building of Masselink Commons was accompanied by the erection of six apartment buildings for married students. By the the fall term of 1955-56 students found a new "Institute" -- the East (now called Prakken) Building and the Alumni Building served as classrooms, and the West Building as administrative and faculty offices. Masselink Commons was a wonderfully versatile building. It housed 350 students (later an addition was built to accommodate about 90 more); it had a food service unit which provided the daily meals for its residents, and it had a snack bar where residents and nonresidents could get between-meal snacks. In 1956, Helen Gillespie Ferris Hall was added, as were three more Campus Heights buildings. Helen Gillespie Ferris Hall was intended as a women's dormitory. There followed a carefully developed plan which added residence hall facilities to the campus each year for the next decade as the enrollment continued to swell.
Spathelf decided that even though the college offered no majors in music and drama, students should have an opportunity to develop their talents in these fields while they were students. After their graduation they would be able to use whatever talents they had nurtured during their college years as an avocational interest. Thus in 1955 Spathelf employed a director of music with a priority of establishing a comprehensive music program which would accommodate both well-trained and not-so-well-trained musicians into band and choral groups. The idea was to provide for the students opportunities to participate in music groups at whatever level matched their ability. Students could earn credits for music activity electives.
Spathelf also overhauled the academic divisions. By 1961 he had established academic programs which at that time were labeled: School of Commerce; School of General Education, which included the General Education and Pre-Professional Division and the Specialized Education Division; the School of Pharmacy; the Collegiate Technical Division; the Teacher Education Department; and the Trade and Industrial Division. Spathelf also orchestrated the name change from Ferris Institute to Ferris State College in 1963.
As a Big Rapids resident, Spathelf garnered honorary degrees from Central Michigan, Eastern Michigan, and Ferris State. The Victor F. Spathelf Center for Allied Health Building was dedicated in his honor on the Ferris State campus, October 13, 1979.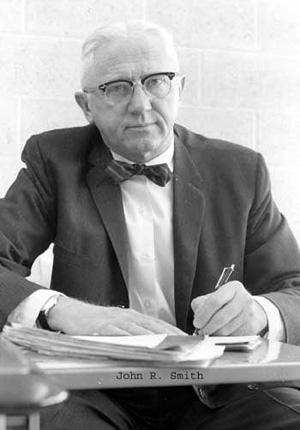 John R. Smith, 1970 - 1971 (acting)
President Spathelf realized that he couldn't handle all his ambitious planned growth and development plans alone, and in the spring of 1953 he persuaded his long-time friend John R. Smith to come to Ferris as his assistant. At that time Smith had served for 23 years in the Highland Park, Mich., school system and was then the assistant superintendent. He also had just been re-elected mayor of Highland Park. Smith took over the business operations of the Ferris Institute. In 1966 he was named vice president for Business Operations. After Spathelf retired, from Dec. 16, 1970 until March, 1971 Smith served as acting president until Robert Ewigleben took over.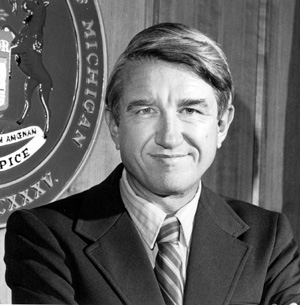 Robert L. Ewigleben, 1971 - 1984
Widely regarded for his leadership in higher education, Dr. Robert Ewigleben amassed a record of achievement during his more than 30 years as a teacher and administrator. Dr. Ewigleben culminated his career as president of Ferris State College, where he served from 1971 to 1984.
Outspoken and direct, Dr. Ewigleben transformed Ferris during his 13 years as its chief administrative officer. During his tenure, the college made more than 40 curriculum changes, and established the Michigan College of Optometry, the state's only such program, the $6 million Manufacturing Resource and Production Center, and what is now known as the Ewigleben Sports Complex. An internationalist, he was instrumental in forging relationships with universities throughout the world and building exchange programs between Ferris faculty and those in Belize, Columbia, and the Asian and African continents. Dr. Ewigleben grew up in Michigan, and worked as a machine operator in Lansing to pay for his education. He began his career as a mathematics and chemistry teacher in Croswell, Michigan. He later served as a principal and superintendent. His move to higher education came in 1960 when he became assistant director of Purdue University's regional campus in Indianapolis. He would go on to serve as vice president at Humboldt State University and as president of the College of San Mateo, which at the time was the largest community college in California.
Dr. Ewigleben has all three of his degrees from MSU: a bachelor's in biology (1952), a master's in educational administration (1956), and a Ph.D. in educational administration (1969).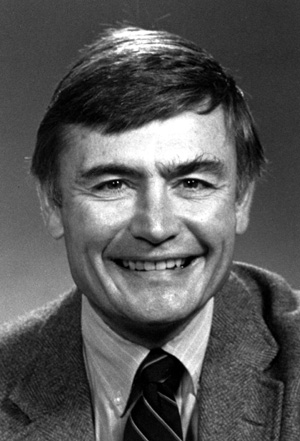 J. William Wenrich, 1984 - 1988
J. William Wenrich, who is fluent in Spanish, holds a bachelor's degree in international and public affairs from Princeton University, a master's degree in university administration from the University of Michigan and a doctorate in community adult education from UM.
He served as president of Ferris State University from 1984-1988; as president of Santa Ana College and superintendent of Rancho Santiago Community College District in Santa Ana, Calif., from 1979-1984; and in a variety of administrative capacities at other institutions, beginning in 1969. Prior to that time, Wenrich served as a representative to the Dominican Republic for the International Development Foundation in New York from 1965-1966 and as a foreign service officer for the U.S. Department of State in both Washington, D.C., and La Paz, Bolivia, from 1962-1965.
Wenrich has served as a consultant in the fields of adult and vocational education, plus community development. He is the author of two books and a number of journal articles on those subjects. He is married, has two children and three grandchildren.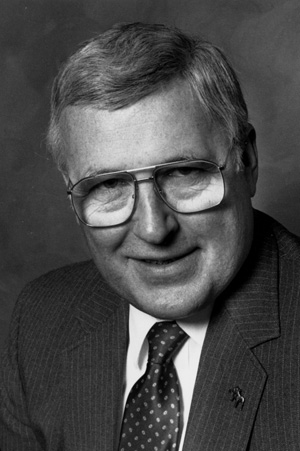 Roy Tiede, 1988 - 1989 (interim)
Tiede joined Ferris in 1981 as vice president for all business and financial operations. He oversaw the areas of administrative services and risk management, including Ewigleben Ice Arena, Holiday Inn Conference Center, Katke Golf Course, Lundberg Bookstore, purchasing, and Racquet and Fitness Club; controller and accounting; financial analysis; human resource development; information services and telecommunications, including the Computer Center and telephone operations; investments; physical plant; and public safety.
Following Ferris' reorganization in 1995, he was also responsible for developing an integrated budget system and overseeing intercollegiate athletics, residential life and dining services.
Prior to joining FSU, Tiede served five years as associate commissioner for administration for the South Dakota Board of Regents. He was formerly vice president for business and finance and controller for the University of South Dakota from 1968-76.
He also worked as account manager for Wabash Magnetics, cost and financial analyst for Ford Motor Company and public auditor for Arthur Andersen and Company.
Tiede received his baccalaureate and master's degrees in business administration from the University of South Dakota. He is the recipient of the USD School of Business Achievement Award. In 1992 he was named to the board of advisors of the Education Communications Consortia, Inc.
Active in the community, Tiede was a member of the Big Rapids Rotary Club, serving as president in 1984-85. He was also a member of the governing board of the United Church of Christ in Big Rapids from 1985-93, and chaired its finance committee from 1983-93.
Roy Tiede served as interim president from September 1988 to July 1989.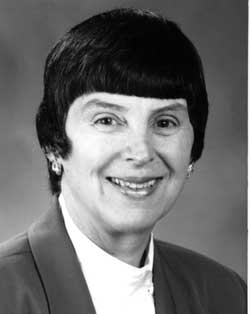 Helen Popovich, 1989 - 1994
Dr. Popovich served as President of FSU from November of 1989 to June of 1994 and was the first female president of any of Michigan's 13 autonomous public universities. An English literature scholar, she has been published extensively and has received numerous honors and fellowships.
Before coming to Ferris, Dr. Popovich served as president of Florida Atlantic University from 1983-1989: Before FAU she had served as acting president of Winona State University in Minnesota since 1981. When she transferred to Boca Raton in 1983, she came with broad goals for the school, including promoting Broward County expansion and constructing a 52-acre, $60 million research park that would allow businesses and industries to conduct research alongside university pupils and professors.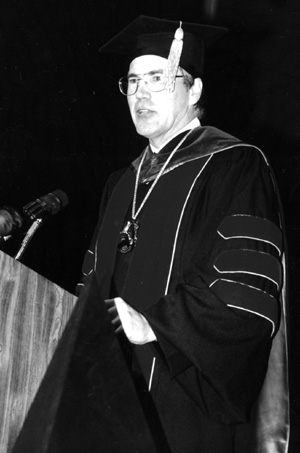 William A. Sederburg, 1994 - 2003
Dr. William A. Sederburg earned his bachelor's degree in education and political science from Mankato State University in Minnesota, where he was raised, and his master's degree and doctorate both in political science and public administration from Michigan State University.
While finishing his education a Michigan State, he was hired at Michigan State as post-doctoral fellow to teach political science and public administration. In 1972, he became the youngest person ever elected to the state Board of Education in Michigan. Soon after that, Sederburg had the opportunity to run for Michigan State Senate as a Republican candidate against a Democratic incumbent, and no one expected Sederburg to be victorious. The state was 70 percent democratic, yet he won the election after his opponent ran into some legal issues.
As a Michigan state senator from 1979 to 1990, Sederburg was responsible for developing the budgets of many state agencies and establishing various state policies. In the 1980s, he organized three successful Mindpower conferences designed to involve colleges and universities in local economic, employment and technological issues. He mainly tackled educational issues and created several initiatives as senator, including the Collegiate Employment Research Institute, the Michigan Information Technology Network and the New and Emerging Task Force. He served in various capacities on several Senate subcommittees concerning not only education, but also mental and public health, aging, the arts, environment and technology.
One of his accomplishments was the creation of a Midwestern Higher Education Commission, a compact between educational institutions in seven states designed to provide better educational opportunities and efficiencies through strong interstate cooperation. The charter and bylaws of the compact were drafted over an 18-month period from 1989 to 1991, and the cooperation became official March 10, 1991.
Not only did Sederburg serve as chair of the drafting task force, but he also then became chair of the newly-formed commission from 1991 to 1994. An eighth state joined the pact, and Sederburg continued developing the Commission by doing things like initiating the creation of a virtual private telecommunication network, a student reciprocity agreement and a property insurance risk management program. He also helped the commission name its first president.
Additionally, while Sederburg served in the Michigan senate, he simultaneously was vice president for Public Sector Consultants, an organization based in Lansing, Mich., which specializes in education, environment and public health research. While working for PSC from 1974 to 1990, he also had his own personal research business, serving clients like fellow congressmen, mayors, local hospitals and television stations. While in the research business, Sederburg conducted more than 150 surveys.
In Michigan, Sederburg also made time to teach and guest lecture on myriad subjects at several local colleges and universities. He has taught at Michigan State University, Alma College, Albion College and Kalamazoo College, on subjects like technology, the political experience, public administration, leadership and the legislative process. He has also guest lectured on subjects like journalism, architecture, finance, psychology, computer science and business. He is well versed and a respected political figure in Michigan.
With this exceptional background, the Ferris State University Board of Trustees in Big Rapids, Mich., was ecstatic to have Sederburg as their 16th campus president. Beginning Aug. 1, 1995, Sederburg did wonders for the school of 11,000 in a town of 9,000. The university, which offers associate, bachelor and doctoral degree programs, witnessed a renaissance in Sederburg's eight-year reign.
In 2001, for the first time since 1977, the university earned the maximum permitted accreditation under the North Central Accreditation team. The initial review noted positive changes in the institution's planning systems, budget and physical plant; the investment in information technology and library resources; the uniqueness and innovation of its niche market programs; and the enthusiasm and pride demonstrated by Ferris students and employees.
In essence, Sederburg revitalized the core activity of the institution. He facilitated the first-ever offering of bachelor of arts degrees at Ferris State, a $100 million campus expansion program, the merging of Ferris State and the Kendall College of Art and Design in Grand Rapids, Mich., and more.
The merging of the University with Kendall College in 2000 increased the educational emphasis on Ferris State's art, technology and design programs. Sederburg took this opportunity to incorporate art into the campus, initiating a Michigan Art Walk, featuring works from Michigan artists in pathways on campus.
The campus facelift does not only include works of art. Sederburg gained capital funds and private sector support to finalize some ambitious construction projects, including the Student Recreation Center (1998), Student Convocation Center (2000), Professional Golf Management Learning Center (2000), The Dow Center for Art, Design and Technology (2001), and the Ferris Library for Information, Technology and Education (2001).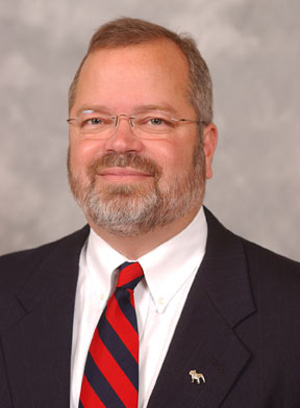 Scott P. Hill-Kennedy, 2003 (interim)
Scott holds the degrees of B.A. from Michigan State University and J.D. from the University of Arizona. He has served as Staff & Union Relations Manager at Grand Valley State University (1993-94); Assistant General Counsel, Ferris State University (1991-93); Lawyer, Varnum, Riddering, Schmidt, and Howlette (1988-91).
Scott started with the University as assistant general counsel from 1991 to 1993. After serving as general counsel since 1994, he was appointed vice president for Governmental Relations and General Counsel in 2000. He also served as interim president and vice president from May to July of 2003. At that time Governor Jennifer M. Granholm appointed Scott Hill-Kennedy to judge of the 49th Circuit Court, which serves Mecosta and Osceola counties. He was elected to continue in that position in the general election of 2006.
During his 13 years with Ferris State University, Scott embraced Ferris' mission and will always believe in what Ferris does for students and the state of Michigan. "I do not think there is a better university to accomplish what is so important in our state today. Students need a fine education, with strong professors, and an excellent preparation to start their career, and Ferris provides that to our students" said Scott. "I will miss being part of an organization that I believe in so much. However, this judgeship is the one other dream I've had in my life, with the first being able to contribute my experience at a university, and I feel fortunate to have done so at Ferris."
David L. Eisler, 2003 to present
President Eisler earned both bachelor and doctoral degrees in Clarinet Performance at the University of Michigan and his master's degree from Yale University. He and his wife Patsy, a native of South Haven, Michigan, have two daughters, Heather, a fifth year Ph.D. student in Molecular Biology at the University of Notre Dame and Lindsay, a fourth year medical student at George Washington University.
Before joining Ferris State University, Dr. Eisler served as Provost and Vice President of Academic Affairs at Weber State University in Ogden, Utah. During his tenure at Weber State, which began in 1996, Dr. Eisler helped reverse that school's trend of declining enrollment with a growth in the student body from 13,900 to 18,100. He also created WSU Online, selected by the University Continuing Education Association as Outstanding Distance Education Program of the Year in 1998. He began his academic career as a music instructor at Troy State University in Troy, Ala., in the mid-1970s, rising to the position of assistant dean of the School of Fine Arts. Dr. Eisler was dean of the College of Fine Arts at Eastern New Mexico University in Portales, N.M., from 1990 to 1996.
With over thirty years of experience at regional universities, Dr. Eisler believes in the importance of higher education as a catalyst for economic development and as a gateway for individual growth, development, and success. He embraces strongly Ferris State University's commitment to students, innovative career-based education, and service to community, region, and Michigan.
Dr. David L. Eisler has served as president of Ferris State University since July 2003. On campus Dr. Eisler has worked with faculty, staff and students to develop and articulate a vision that focuses Ferris State University as a Learning-Centered University. Under his leadership the University has embarked on an ambitious program of technology integration, classroom renovation, wireless networking, and cooperative programs with community colleges.
Within Michigan Dr. Eisler works actively on issues of higher education and economic development. He served with the Cherry Commission on Higher Education and Economic Growth. Governor Jennifer Granholm has appointed him to the Council of Labor and Economic Growth and the Midwestern Higher Education Compact, and he currently serves on the executive committee of both organizations. An advocate for the arts, he also serves on the Board of ArtServe Michigan.
President Eisler has spoken widely and published papers on the integration of technology in higher education. As an academic leader, President Eisler believes strongly in the value of excellence in undergraduate education. He is committed to ensuring the integrity of the college experience based upon an education that develops mature communication and quantitative skills, including a knowledge core that has both breadth and depth, which creates a pattern of intellectual rigor and provides the foundation for lifelong learning.
Throughout his career, Dr. Eisler has been heavily involved in community service and he believes strongly that service is an important component of the educational experience. With the American Association of State College and Universities and the New York Times, he helped create the American Democracy Project. He currently serves on the Board of the ConnectMichigan Alliance, which brings together the efforts of the Michigan Nonprofit Association, Michigan Community Service Commission, Volunteer Centers of Michigan, and the Michigan Campus Compact.