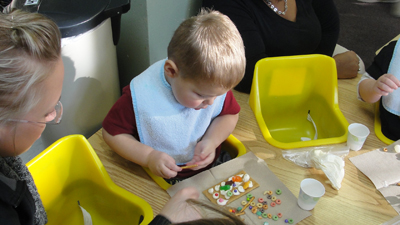 Photos
Our classroom is a safe, nurturing learning environment for children ages 1 month through 3 years old. Current research indicates that the first 3 years of life are the most important years for learning and developing cognitive, social/emotional, physical, and language skills. The curriculum for infants and toddlers is based on the following fundamental beliefs:
Developing trusting relationships between each child and caregiver
Delivering responsive, individualized care to each child
Creating environments which encourage exploration
Ensuring the safety, health, and well-being of each child
Forming partnerships with families
Accepting and embracing cultural, family, and individual differences
Upon enrollment each child in the Infant and Toddler program will be assigned a primary caregiver. Primary caregivers are essential to forming positive relationships between the children and teachers. The curriculum goals & objectives, together with input from parents, guide the teacher's planning for each individual child.