The Copy Center has a diverse amount of equipment to serve the needs of our customers. We have a Heidelberg 9110 digital printer that produces 110 copies per minute.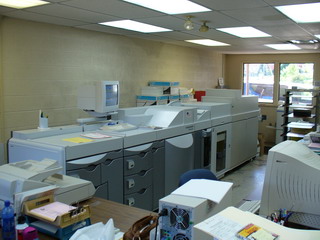 In addition, we have 3 smaller copiers for black print and 2 for color copies.
We have a 2-color Ryobi press for large colored ink jobs, and a small digital press to print envelopes and cards.
We have a booklet maker that will collate, fold, staple, and trim booklets. Also, we have an inserting machine that will insert up to 4 items into an envelope and seal them for mailing. Additional equipment includes a perforator, 3 folders, a tabbing machine, a shrinkwrapper, 3-hole drill, laminator, and a fax machine. With so much equipment available to us we can handle almost all of your needs.