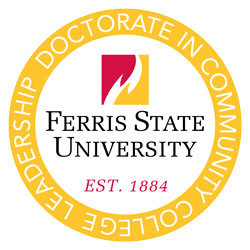 Convenience
All courses are blended with online and one-week summer intensives and one weekend face-to-face per course during fall and spring semesters.
Practitioner Focus
Emphasis is on developing the practical, contextual skills required for successful community college leaders.
Interdisciplinary
Courses integrate disciplines from business, humanities, education, and more – the way in which challenges exist in the real world.
Cohort Delivery
Learners will be part of a cohort that will produce a supportive learning community.
Team Teaching
Courses have been jointly developed and are taught by college leaders and community college practitioners with special areas of expertise.
Writing/Research Support
Support for the dissertation will begin with the first course and culminate with completion of the dissertation at the end of the third year.
Expert Engagement
A national advisory board of recognized community college leaders guides the program; many serve as associate faculty and guest lecturers.
Future Orientation
Planning, strategic thinking, systems perspectives, and collaboration are among the 21st century skills integral to the program.
Relevance
Projects will be based on actual cases in community colleges and a dissertation option includes completion of a workplace project.